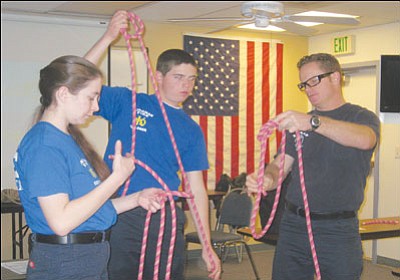 Originally Published: February 10, 2010 6 a.m.
KINGMAN - One night a month for the last several months, a group of high school students meet at the Station 2 firehouse to get an inside view into fire service.
Many of the students are aspiring firefighters, and the Kingman Fire Department's Explorer program gives them a chance to see if that's the career they really want before investing a year in course and fire academy work.
"A lot of guys get through the recruiting period and find out they hate it," said firefighter Tanner Miller.
"This lets them see if they really want to do it." To say nothing of getting to hang out with firefighters and learning the tricks of the trade from those on the front lines.
The Explorer program began last summer and is modeled after the same process firefighters go through, including initial oral board interviews before entering the program. The Explorers are then assigned to companies and each company is assigned a captain.
The group meets the first Thursday of each month to discuss various fire service related issues, everything from CPR training, which the students learned last month, to learning to tie knots, which was this month's topic.
The department doesn't have to go far to find teachers.
The firefighters themselves often lead the sessions based on what they've learned at recent training gigs, like firefighter Dan Winder, who taught the knots topic based partly on information he learned at a technical rescue class he attended in Prescott last September.
Miller said the hope is to have Explorers doing ride-along on fire rigs by the spring.
"We're kind of making new tracks (with the program)," Tanner said.
The Explorers program is open to kids ages 14-18, though those enrolled can stay on with the program through age 21. Nine kids are currently enrolled, including 18-year-old Renill Esquerra. The Kingman High senior is also enrolled in the EMT class at Mohave Community College and says she joined because she wants to become a firefighter after graduation.
While many of the students in the program share Esquerra's aspirations, the Explorers program is also a way for kids to learn leadership and responsibility.
"When Renill joined, she was kind of in her shell," Tanner said. "But over the months, she's become a lot more involved."
Students must maintain a 2.8 grade point average to stay in the program. Explorers are responsible for the cost of a uniform shirt, but the rest of the program is paid for through fundraisers, like manning the parking booth at the annual county fair.
The Explorers will hold another enrollment this spring. Anyone interested in more information may call the Kingman Fire Department at (928) 753-2891.