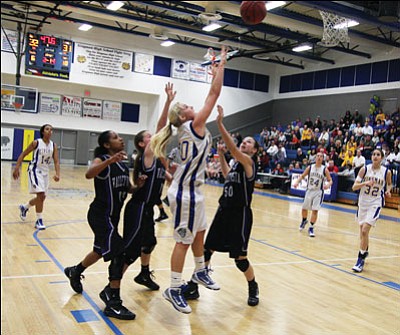 Originally Published: February 11, 2010 6 a.m.
KINGMAN - Turnovers and poor inside shooting spelled doom for the Kingman High girls basketball team in their quest for an undisputed Northwest Region championship Tuesday at KHS. The Lady Bulldogs fell victim to Surprise Valley Vista 56-44, which leaves KHS just a small glimmer of hope for a co-championship with two games remaining for both teams.
There seemed to be more than the reported 17 turnovers by KHS (14-2, 10-2 NW). The Lady Bulldogs' passing game was especially vulnerable, as Valley Vista (14-2, 11-1 NW) intercepted numerous over-the-top pass attempts.
"Valley Vista's scores came from our mistakes," KHS coach Danny Gonzalez said. "Going up against these type of teams, the focus has to be there."
KHS held its last lead with 6:06 left in the first quarter, though the Lady Bulldogs managed to tie things up in the third. The Monsoon went on a series of small runs throughout the game, something the Lady Bulldogs usually accomplish. Valley Vista went up 29-21 in the second on the heels of a 25-second, 6-0 run and led 31-25 at the half.
The Lady Bulldogs opened the third with their own 7-1 run to make it 32-32, but Valley Vista quickly turned that around with another 6-0 spurt. The Monsoon led 43-36 at the end of the quarter.
KHS, however, wasn't done yet. The Lady Bulldogs narrowed the lead to four, 46-42 with just less than six minutes to go. Again, it was Valley Vista that seized the moment when they replied with a 7-0 run and KHS was scoreless over the 4-1/2 minute span. One problem was that the Lady Bulldogs' shots hit the front of the rim as fatigue set in.
"Even Lindsey (Reed) came up short," Gonzalez said. "But, I can't take away from anybody's effort."
Reed and Dominique Hale each scored 17 to lead KHS, Bianca Sapien had five, Sara Reed added three and Amber Caswell chipped in two. Valley Vista's Antoinette Miller scored a game-high 20.
"Now we know what's hurting us," the coach said. "Every girl responded that they would take it to practice and work hard."
It was an emotional loss for the Lady Bulldogs on Senior Appreciation Night, but the big picture is still in sight. A win over O'Connor today in Phoenix should just about wrap up the No. 3 seed for KHS in the state tournament.
Even Valley Vista knows this is not the end of KHS' season. The Monsoon's coach Rachel Matakas told Reed she wants to play again at Wells Fargo Arena on the campus of ASU, site of the state Final Four.
KHS was without senior Tesla Morgan, who continues to battle health issues. A timetable for her return to the squad has not been set.
"It's not the end of the world considering what we've been going through," Gonzalez said. "There's no reason to panic. We've been able to focus on other girls getting experience, so when we do get healthy, we'll be a better team."