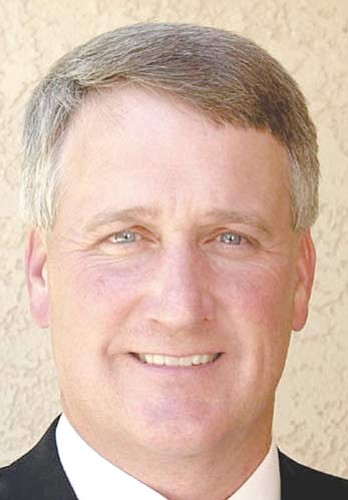 Originally Published: February 14, 2010 6 a.m.
KINGMAN - By unanimous vote, the Mohave Community College board, along with its newest member Travis Lingenfelter, approved on Friday the adoption of a comprehensive strategic plan to guide the college through the 2013 school year.
The plan, which was developed over the past year by officials and community representatives from each of MCC's four campus locations, had been finalized by the governing board in December prior to Friday's adoption. The plan calls for a wide range of new initiatives designed to narrow MCC's focus in order to better serve its students and faculty.
According to college president Michael Kearns, the initiatives listed in the 12-page plan focus on four separate goal areas: educational, cultural, civic and resource-centered.
MCC's educational goal is to enhance its teaching initiatives, technology, partnerships, student support services, information, advising and faculty professional development. Its cultural goal is to become a conduit between businesses, organizations, foundations and the arts to strengthen understanding of the world through education.
The civic goal is to promote active citizenship within the college community by engaging students, staff and faculty in citizenship and providing programs and activities in the fine and performing arts for all. The resource goal is to provide the resources needed to achieve the mission and vision of the college.
Each of the four goals has several subsections and dozens of individual initiatives listed within it. Some initiatives are scheduled to be completed as early as this month, while others will not play out fully until 2013. All the initiatives listed within the plan are meant to serve as guidelines, with specific implementation to be determined by the individual deans and directors tasked with accomplishing each goal.
"They're all very important, and it all depends on the perspective of where you're coming from," Kearns said. "With our external environment changing rapidly all the time, we need to make sure we're focused on the constituents we serve. The focus of our plan was to keep our scan of the environment focused on what's happening outside the college so that we are preparing students appropriately."
Kearns added that another goal will be to focus on the future employment situation in Mohave County to tailor classes and programs to meet it head on. He said the introduction of a new one-year licensed practical nursing program at the college's upcoming Allied Health Training Facility on Detroit Avenue is one such way MCC has tried to do this.
"Many of the things that are in the plan, we've already been doing. We just wanted to get better at it," Kearns said. "It's to focus in on where we've been heading as well as looking at what's coming up ahead."
The plan met with heaps of praise from the governing board, with even newly-minted member Lingenfelter calling it "a very professional document."
"I would just like to congratulate the faculty and staff on this magnificent proposal to come into the 21st century," said board member Judy Selberg. "I like the idea that the board can stay focused, and that, to me, is the most important aspect of this strategic plan, because it allows us to stay focused on the community and on education."
The full plan can be viewed online at www.mohave.edu by clicking the red box labeled "MCC's Strategic Plan," with supporting documents available at www.plans.mohave.edu.
Elsewhere on the agenda, board members approved an articulation agreement with the Chamberlain College of Nursing, an online institution that will allow MCC nursing students to continue their studies toward a bachelor's degree while remaining in Kingman to work. Chamberlain has agreed to award up to 80 transfer credits to incoming nursing students, with tuition charges for MCC graduates dropped to 90 percent the regular rate. The agreement, which was unanimously approved by the board, is the seventeenth such agreement to be established by MCC to help its students continue their education.