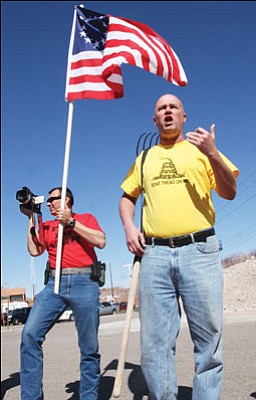 Originally Published: February 17, 2010 6 a.m.
KINGMAN - With signs, flags and flyers in hand, a group of 50 Mohave County residents Tuesday expressed their disapproval of a county policy that prevents politicking at the County Administration Building.
The group gathered around noon in front of the County Administration Building, about an hour before the Board of Supervisors met, in support of Golden Valley resident Luca Zanna.
During a November town hall meeting held by Sen. John McCain, Zanna was asked by Supervisor Buster Johnson to stop passing out flyers containing information about McCain's voting record.
Zanna, a member of the Mohave County Minutemen, has asked the county to apologize for infringing on his First Amendment rights and admit that there is no law that prevents the public from passing out political information on public property.
"I'm part of the Tea Party movement," said resident Randy Cone when asked why he attended the rally. "We can't take the country back from the corrupt politicians if we don't take the county back first."
"This is an insult to us," Zanna said at the rally, referring to the county's policy and statements made by Board Chairman Tom Sockwell and County Manager Ron Walker. "They work for us."
Sockwell and Walker have both written letters to the editor to explain the county's policy. Zanna feels that both letters were insulting, discriminated against him and his wife and put his family in danger by insinuating that he might be a terrorist.
Later, Zanna reminded the crowd that he would soon start collecting signatures for his effort to recall Sockwell. He needs to collect more than 3,700 signatures in order to place the recall on the ballot. Zanna said he was willing to pay $1 for every valid signature. Only signatures from registered voters in Sockwell's district would be considered valid for the recall petition.
"We have the option to come together and do something about this. We have to do this," said Bridget Langston, Zanna's wife. "They can't call us 'fringe lunatics' and get away with it."
"Walker is the biggest problem," Zanna said. How could a county official, someone hired to serve the public, attack and try to intimidate a law-abiding taxpayer? he asked. "We're not afraid!" Zanna shouted at the building.
"The founding fathers would have been proud of you people coming out in support of our founding documents," resident Mervin Fried told the crowd.
Fried, who was carrying a pitchfork slung over his shoulder, was later arrested for misdemeanor trespassing when he attempted to enter the Administration Building with the farming implement.
According to the Mohave County Sheriff's Office, Fried was allegedly told twice, at least once by Walker, that he could attend the Board meeting but would have to leave the pitchfork outside. Fried allegedly walked into the building anyway and a deputy arrested him. Fried was later released on bond.
According to MCSO and county officials, residents are allowed to carry guns into the County Administration Building as long as they are holstered.
Several other people spoke out in favor of Zanna's push against the county at the rally.
"The policy still needs to be enforced. There are plenty of other places for people to carry on demonstrations, pass out flyers and speak their opinions," said Walker after the rally.