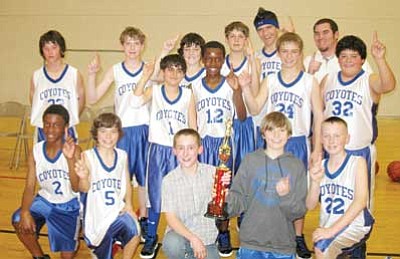 Originally Published: February 25, 2010 6 a.m.
KINGMAN - In the true spirit of there being 'no I in TEAM,' the seventh-grade boys basketball team from Kingman Academy of Learning wrapped up a perfect season when they beat Mohave Valley Feb. 18. The Coyotes finished the year 14-0.
"This has just been a terrific season," KAOL coach Michael Perrine said. "This group of boys just love the game, and they truly get the concept of teamwork. They are more concerned about making this team better then making any one player the best."
Breyden Potter led the Coyotes with 15 points in the win over the Bulldogs. Caleb Boyett added 10, Henry Chinyere had nine, Dallas Moran netted seven, T.J. Pena four, and Remington Jorgensen chipped in two.
"It was our last game of the season, and with the undefeated title in the air, everyone was feeling it and getting pumped up," Perrine said. 'We played great ball on both sides of the court, and when the subs went in, they played aggressive defense and followed their shots."
On Feb. 13, KAOL went 3-0 to win the seventh-grade tournament in Lake Havasu City. The Coyotes took the championship game 38-36 over Havasu Thunderbolt. KAOL led by one with 17 seconds left, hit a free throw and then held on as the Thundercats couldn't score.
"This was a battle the boys were determined to win," the coach said. "I knew it was going to be tough because Thunderbolt always has a good squad."
KAOL jumped out to a 21-7 lead over Havasu Daytona in the semifinals of the tournament. The Coyotes eliminated Daytona 43-30 to advance to the championship.
"This was a game where everyone saw a lot of playing time," Perrine said. "Everybody played their best ball."
It was a win over Mohave Valley that got things rolling at the tournament for KAOL. Boyett and Jeffrey Chinyere bombed in a couple of 3-pointers each, and the Coyotes rolled 46-36.
"We maintained the lead throughout the game," the coach said. "But it was one of those games that I never felt comfortable and knew that at any moment they could come back."
Boyett led the Coyotes with 37 points in the tournament, Potter scored 26 and Henry Chinyere added 21.
The season began with Perrine intent on building a program, and the flawless won-loss record came because his players bought into the system.
"Our main focus is to develop ballplayers, no matter which school the boys choose after eighth grade. We want them prepared for the next level," Perrine said. "I feel the season was successful due to the boys' commitment to try to always better the team and give 100 percent at all they did."