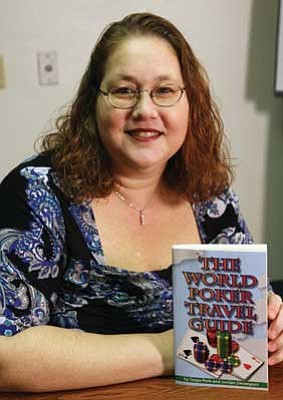 Originally Published: February 26, 2010 6:02 a.m.
KINGMAN - What started with a computer game in 2001 for Kingman resident Tanya Peck has blossomed into world travel experiences and a brand new book. Peck is the author of the recently released "The World Poker Travel Guide."
Her interest in the game started in 1999, when her mom bought her a computer game with seven-card stud poker for Christmas, she said. It wasn't long before she started to play for free online and then moved to playing in the casinos near her home in Phoenix.
Her first experience playing live poker at a casino was in 2001 at the Fort McDowell Casino in Phoenix. Later that year, she moved to Kingman and decided, since she was so close to Las Vegas, it was time to really investigate the game.
"It was before Poker really went mainstream in 2004," she said. "The guys really didn't like the idea of a woman, especially a young woman sitting at the table with them. It was kind of intimidating at first."
At first, she didn't win a whole lot, but then she started reading books, searching the Internet and studying the game, and her luck started to change.
It wasn't long before Peck found herself enjoying poker tournaments around the world. She even entered the World Series of Poker and finished 44th.
"I like the camaraderie you find at the tables. You can sit there for hours playing with the same group of people and you kind of get to know each other," she said.
One of those people happened to be professional poker player Matthew Hilger. She met him through his Web site, InternetTexasHoldem.com.
Hilger had been kicking around the idea of a world poker travel guide for several years but he hadn't had the time. He pitched the idea to Peck and she started writing.
This is not the first time Peck has written about poker. She is a member of a number of poker forums online and has written a monthly column for Women's Poker Player magazine.
"It's like a Forbes' guide for poker players," she said.
The book focuses on the card rooms Peck, her co-author and fiancée Jordan Devenport and a few other contributors thought were the best.
Each card room or casino was rated on its overall customer service at the tables, its atmosphere, staff, if food or drinks are offered at the tables, as well as the hotel and restaurant accommodations in the area. It took Peck and Devenport nearly two years to write the book.
"It looks at the whole package. If you're going to spend one to three days playing poker in a place, you want to know if it's comfortable," Peck said.
The book is broken down into geographic chapters for areas such as Las Vegas; Atlantic City, N.J.; Western Europe; and Australia/ New Zealand.
Two of the most exotic places Peck traveled for the book were to Costa Rica and St. Martin's.
One of Peck's favorite poker rooms is the Bicycle Casino card room in Bell Gardens, Calif. The room has more than 135 card tables and some of the best staff and players in the world, she said.
The book also has chapters on the top three best hotels, restaurants that cater to poker players and a short guide to poker room etiquette for first-timers.
Peck is holding a book-signing party today from 6 to 8 p.m. at Lombardo's, 710 Eastern Ave. She will have copies of the book at the party. It is also available online at Amazon.com.