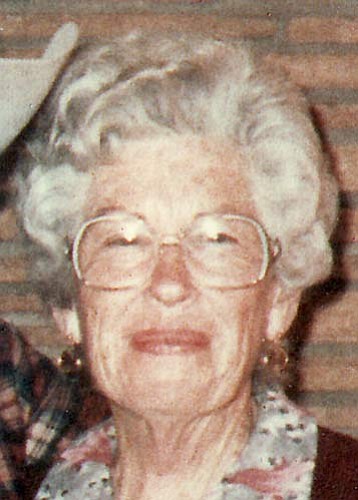 Originally Published: January 7, 2010 6 a.m.
Lenora Lee Odle of Crawford, Colo., quietly passed away in her home on Saturday, Dec. 5, 2009, at the age of 85.
Born Sept. 22, 1924, in Prescott, she grew up on her parents' ranch in the Hualapai Mountains just below the Boriana Mine. She attended grade school at the Boriana and high school in Kingman.
Lenora married Edward Odle on Sept. 21, 1941, in Las Vegas and moved a few miles north of her childhood home to the Odle Brothers' Cattle Ranch. She lived there with Edward for the next 45 years, and during that time, worked at the Central Commercial Company in Kingman, eventually becoming manager of the Ladies Ready-to-Wear Department.
Lenora was a hard worker and deftly performed duties that were historically entrusted to a ranch wife. She was usually awake before 5 a.m. to cook breakfast for the men, prepare their mid-day meal, then drive to work in Kingman. After working in town all day, she would return home and cook dinner for the men and whoever else happened to suddenly appear. She was known as an excellent cook and her door was always open.
She also kept the books for the ranching operation and was often representative to governmental agencies and the bank. In her "spare" time she would gather cattle with her husband or haul feed, water and salt, and maybe raise a few dogies and sick calves.
Despite all the long hours and hard work, she loved the ranch life and when, in 1987, she and Edward left the ranch for their new farm in Colorado, she was of heavy heart to see her beloved Hualapai Mountains in the rear-view mirror. She had lived most of her life there and had become one with the land and wildlife, and was protector of both. Years later, she would speak wistfully of her old home and the many memories she had.
Today, she has returned to rest peacefully with her husband in the shade of the old yellow pine, and it is only fitting that her epitaph should simply read: "Lenora Odle, a Woman of Substance."
Lenora was preceded in death by her husband, Edward; parents, James Henry Herridge and Mittie Mills Herridge; and her brothers, Irwin and Martin Herridge. She is survived by an uncle and many nieces and nephews.
Lenora was cremated and requested there be no service.