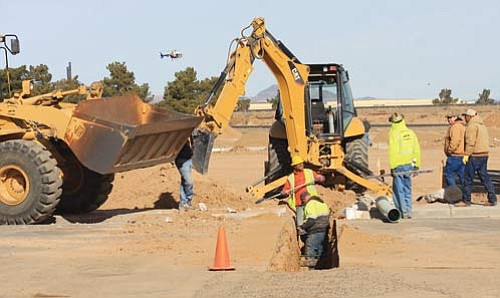 Originally Published: January 10, 2010 6 a.m.
KINGMAN - Nearly three months after it broke ground, Mohave Community College's Allied Health Training Center still doesn't look like much more than a few piles of dirt and some pipes jutting out of the ground. But once the foundation is completed and the building starts going up over the next three months, MCC Foundation Executive Director Alan Klaas thinks the new crop of nursing students is sure to be impressed.
Funded by a combination of grants, donations and the college's own coffers, the $2.2 million training center located just behind the Safeway store on Detroit Avenue is currently on schedule for completion on May 19. With the opening anticipated for the fall semester, the 10,500-square-foot building will serve as the home to MCC's existing Registered Nursing program, as well as a new one-year Licensed Practical Nursing program.
"We're attempting to have the (program) approval process completed, but much of that is outside our control," Klaas said. "We're in the process now of seeking academic approval with the hope of starting the program in the fall."
The building will also have additional space for at least one more area of study, to be filled at some point in the future. Klaas added, however, that whatever does come in is likely to remain health-related in nature.
Once completed, the center will be equipped with a number of high-tech, state-of-the-art education features designed to better equip MCC's nursing students. Among these are a pair of simulation mannequins that are designed to emulate a host of actual biological functions to give advanced nursing students the next closest thing to working with an actual patient.
"The SimMan is a simulated patient - the simulator sweats, the eyeballs dilate. It can talk to you, listen to you, it can answer questions," Klaas said. "When the nursing student injects a drug, it knows what drug and what amount, and then the simulated patient will react depending on all of those variables. We're bringing two of those in, and each of those will be in their own actual simulated hospital room."
Valued at $80,000 apiece, the SimMan can be programmed to exhibit symptoms of dozens of different medical problems, with new and updated symptom programs easily downloaded from the manufacturer's Web site as they are made available. Klaas said MCC's SimMen will come equipped with 40 symptom programs, as well as monitoring equipment that simulates pulse, respiration, blood pressure and other biological measurements.
"It's got full-body monitoring functions like you would have in a standard hospital setting," he said. "We'll offer demos when we have our open house in August. It's just fascinating."
Two classrooms at the new facility will also feature wall-to-wall, floor-to-ceiling whiteboards, which will double as a projection surface. One of the classrooms will be used to teach nursing students, while the other will be used as a fully-equipped ITV classroom designed to broadcast a variety of general classes to each of the college's main campuses and satellite classrooms.
"We can teach a class in this facility and broadcast it to any of our other classes or anywhere else in the world that has an Internet hookup," Klaas said.
In addition to providing a place for a whole new program to thrive, Klaas noted that the Allied Health building will also free up some much-needed classroom space at the college's main campus on Jagerson Avenue. With the economy forcing many out of work, Klaas said the college's enrollment has continued to rise, even as the amount of space to teach them in has stayed static.
"With the failure to pass the bond issue, we are rapidly running out of campus classroom space," he said.
Fortunately, Allied Health's construction has provided some local subcontractors with work. While the project's architect and lead contractor are both out of Las Vegas, Klaas said about two thirds of the actual construction is being done by firms from around Mohave County.