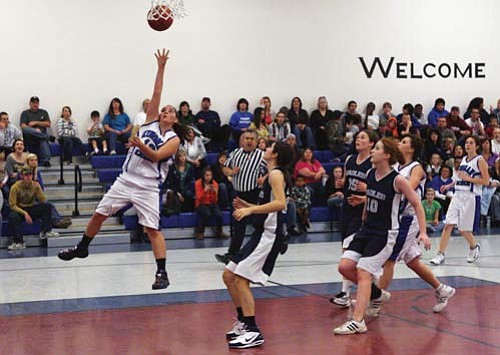 Originally Published: January 13, 2010 6 a.m.
KINGMAN - Queen Creek's Hannah McMillan scored six of her game-high 16 points in the final minutes to lead the Eagles past the Kingman Academy girls basketball team 43-41 Saturday at KAHS. It was the first loss of the season for the Tigers, who sent EVAC to the free-throw line enough times for the Eagles to score 24 points from there.
"Exactly what happened was what I told them before the game," KAHS coach Dave Scroggins said. "We didn't move our feet and play defense. Free throws come down to defense and moving your feet."
KAHS (9-1, 2-1 CAA West) led by six when Jordan Book hit a 5-footer with 3:20 left, but the Tigers went scoreless the rest of the way. After Kristal Chavez hit two free throws for EVAC to cut the lead down to 41-37, McMillan made it one-point game with a 3-pointer. She added an 18-foot jump shot with :21 left to put the Eagles up, and Book and Heather Young each missed shots for KAHS with five seconds remaining. McMillan added a free throw, and the Tigers suffered their first loss.
"We need to have our point on the zone stay with her (McMillan) next time," Scroggins said. "We needed to be aware where she was. We all knew she was their shooter."
KAHS shut EVAC (7-0 CAA East) down in the third when it held the Eagles to only two points. The Tigers turned a 29-23 halftime deficit into a 32-31 lead to start the fourth. KAHS was plagued by a lack of offensive rebounds, EVAC's zone defense and an abundance of committed fouls in the first half.
The third saw the Tigers come out of the locker room with more energy as EVAC looked to have run out of gas.
"EVAC handled our press well," Scroggins said. "We just put in a new one, and we have some things to fix."
Mariah Wilson led KAHS with 11 points, Ashlee Nolte scored nine and Book finished with eight.
Stephanie Weyermiller and Kayla Julian both added six, and Young had one.
KAHS tuned up for the EVAC game Friday with a 73-6 win over Phoenix Mission. The Tigers ran out to a 26-0 lead at the end of the first quarter and never looked back. KAHS had 14 players score and were led by Book and Weyermiller with 11 each. Wilson added seven in the win for the Tigers.
KAHS faces West Phoenix (2-3 CAA-W) Thursday in Phoenix.
A win by the Tigers over the second-place Eagles would just about put the finishing touches on the Western Conference regular season championship for KAHS.
More like this story