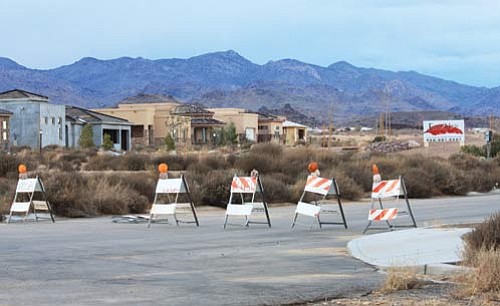 Originally Published: January 17, 2010 6 a.m.
KINGMAN - The first decade of the 21st century ended on a long, sour note for contractors, especially in states such as Arizona, where the housing boom of the early 2000s had gone bust halfway through.
Fortunately, things seemed to have stabilized, at least according to William Mundell, director of the Arizona Registrar of Contractors. The ROC is the governmental agency that oversees and regulates contractors across the state and ensures each of Arizona's nearly 60,000 contractors is properly certified and licensed.
"What we're seeing is, thankfully, a leveling off in the decline in renewal of licenses," Mundell said in an interview Tuesday. "Renewals are staying steady, which I think is a good thing for the economy."
But Mundell noted that while the most robust contractors appear to be weathering the storm, the recession has forced many employees of former contractors to turn to unlicensed work, both locally and from out of state. That makes his agency's job all the more important, especially for cash-strapped consumers, since ultimately, it's their protection he's most concerned for.
"We're seeing an increase in unlicensed activity, and for consumers, especially homeowners, it's very important that they hire a licensed contractor," Mundell said.
The primary reason customers should ensure a contractor is licensed is because it proves that the contractor has taken the necessary tests and shown themselves capable of performing the quality of work their field demands, whether it's electrical installation or roofing, foundation pouring or plumbing.
What may be even more crucial now, however, is that licensed contractors are the only ones that customers can successfully receive restitution for doing shoddy or unfinished work, even if that contractor should go bankrupt. That's because Arizona's ROC is one of only 13 in the nation that maintains a recovery fund specifically to compensate victims of poor contracting work.
"That's really important in this economy, because if you have a company that goes out of business or goes bankrupt, you'd have nowhere to go (without the recovery fund)," Mundell said. "You might sue them in court, but you might never get your money back."
Mundell added that the recovery fund is also used to compensate subcontractors who go unpaid when the lead contractor abandons a job. That, he noted, is another increasing trend in today's post-bust economy, and can even be seen in several housing developments around Kingman.
"We are seeing an increase in abandonment of projects," Mundell said. "The contractor accepts the project and either doesn't start it or never completes it."
Also on the rise are the number of unskilled, unlicensed "fly-by-night" traveling handymen who offer contracting services, collect a fee up front, and then either perform no work at all or perform very shoddy work. Mundell said such operations come to the Southwest during the winter months and bilk customers for work that is difficult to verify by a layman, such as roofing work. They then return back east when the weather warms up.
"They're not licensed, they've never been licensed, they use substandard materials, and they do very poor workmanship," Mundell said. "They're usually cheaper, but it's the old adage: you get what you pay for."
In such cases, Mundell said it's crucial for consumers to verify that a contractor is licensed before hiring them. Anyone can do so by going to the ROC's Web site, www.azroc.gov, and looking under "Contractor Info & Searches."
"The most important thing they can do before they sign a contract is check out our Web site," Mundell said. "You can find out if the contractor is licensed, you can see what kind of license they have and how many complaints they've had filed against them."
Other steps customers can take to protect themselves are to get more than one bid for any work they want done, make a small down payment if any, pay with checks to ensure you have proper documentation, and try to get the job put down in a written contract. Mundell said customers should also ask any prospective contractor for referrals to other jobs they've done in the past. That gives the customer a chance to evaluate the quality of the contractor's work prior to signing off on a new job.
Complaints
If a customer feels a licensed contractor has done substandard work, Mundell said they can also file a formal complaint through the ROC's site, which will in turn prompt one of the agency's inspectors to investigate to see if there's any veracity to the customer's claims. Mundell noted that 77 percent of complaints are ultimately determined in the contractor's favor, but the remaining 23 percent do move forward, often resulting in out-of-court settlements between the contractor and the offended party.
"We encourage them to settle, but if they can't, it goes to an impartial administrative law judge," Mundell said. Rarely, he said, such cases can even end in criminal charges against the contractor, as was the case with Gomez Pools & Spas in Yuma just last month. In that case, both of the company's founders are facing jail time for accepting hundreds of thousands of dollars for jobs they failed to complete.
Staff cuts
Like every other state agency, the Registrar of Contractors has had to cope with staffing and budget cuts in recent months, including the closure of the Sierra Vista field office. Since he took office 10 months ago, Mundell said his staff has fallen from 145 to just 98. But he noted that drop hasn't proven as drastic as it sounds, since the number of contractors has been falling even faster over the past two years.
"We've been keeping up with our inspections, both because we're trying to become efficient, but also because, frankly, there's less contracting work going on," Mundell said. "We're lean and mean. I've given back numerous vehicles, I've taken away cell phones, I've taken away Blackberries, and we're doing electronic filing with the courts now."
But while the agency has successfully borne the brunt of most recent challenges, new ones are popping up every day, especially with the advent of green and renewable energy technologies. One of his biggest goals over the next decade, Mundell said, will be making sure that the contractors installing solar panels and wind turbines have the appropriate knowledge and experience to do so.
Green expertise
One way to do this, he said, will be to add more questions about solar and wind installation on the tests certain contractors are required to take before they can receive specialized licensing in "solar plumbing" or "solar electric," which qualify them to install devices like solar water heaters and solar panels in addition to their regular trades.
In the long term, however, Mundell said he wants to create an entire separate licensing for renewable and green technologies, but to do that will take a minimum of two years to get through the required rulemaking procedures, public comment periods and hearings before it would go to the Attorney General's Office.