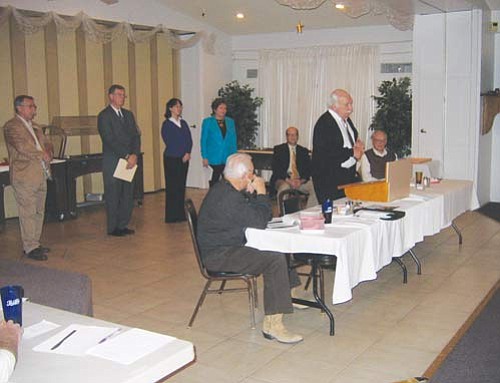 Originally Published: January 19, 2010 6 a.m.
KINGMAN - Voters in Kingman got their first taste of the upcoming Council elections Monday, when the Kingman Republican Men's Club hosted the season's first official candidate forum, featuring all five Council candidates whose names will appear on the March 9 primary ballot.
The forum provided an opportunity for each of the three newcomer candidates, Erin Cochran, Richard Anderson and Allen Mossberg to introduce (or, in Mossberg's case, re-introduce) themselves to Kingman voters, while also allowing incumbent candidates Janet Watson and Ray Lyons to look back on some of their previous accomplishments.
Each of the candidates fielded questions from Dr. Larry Schiff, president of the Men's Club, who in turn selected the questions from audience suggestions. Schiff first asked each candidate their opinions on city finances, including their stances on impact fees, property taxes, whether to pursue one or both of the city's proposed interchange projects and if so, how to pay for them.
Each of the candidates essentially agreed that, with Kingman only beginning to emerge from the worst recession in 70 years, no tax or impact fee increases should be passed in the current environment, nor new taxes or fees imposed.
The sole registered Democrat to attend the meeting, Lyons was the also only candidate to advocate for a return of the city's property tax, which he said had been repealed several decades earlier. He admitted, however, that the odds of Kingmanites accepting a primary property tax now or ever, was practically nil.
"We'll never get it back, and we pretty much need that, because sales tax is too imbalanced," Lyons said, adding that sales tax collections have see-sawed wildly over the last several years as Kingman first benefited from the mid-decade housing boom, then suffered the effects of the bust.
Mossberg, however, argued that the city's Finance Department has done an excellent job of accurately forecasting future sales tax collections and adjusting or cutting the budget to compensate for them. He maintained that no new sales or property taxes should be required in order to maintain existing services.
Watson said the current City Council, herself included, had made a conscious effort to avoid raising any new taxes while still maintaining existing services, and if re-elected, she pledged to continue doing so. She noted, however, that without new revenues, the city will continue to have no money for any of the projects on its multi-million dollar list of capital improvements, some of which have been deemed absolutely vital, such as the relocation of the city's current 911 call center - a necessity several candidates made mention of in their introductory statements.
Each candidate agreed that, while impact fees on new development should not be raised in any way, they were still an essential part of the city's current budget and should not be abolished entirely. Anderson stated that he would like to see the city offer businesses alternate means of making a commitment to the city, whether it be through financing infrastructure through impact fees, pledging to hire a certain percentage of their labor and management staff from the surrounding community, or providing training and development programs to local citizens to prepare them for incoming new jobs that will require advanced technical expertise.
The candidates also agreed for the most part that both the Kingman Crossing and Rancho Santa Fe Parkway (formerly Rattlesnake Wash) interchanges were simply financially untenable at this point, due to ongoing litigation in the first case and continual delays and cuts in state-shared funding in the second.
Both Watson and Cochran pointed to the possibility of using federal Transportation Investment Generating Economic Recovery (TIGER) grants as a possible funding source for one or both interchanges, but until February, when the city learns for certain whether it will actually receive that funding, the fates of both interchanges will remain grim, at least in the near term.
"It's all going to depend on whether or not we get the TIGER grants," Cochran said. "Other than that, there's not a real optimistic way of funding them at the moment, along with the rest of the giant wish list of items we would like to get taken care of. It's all a matter of money, and we don't have a lot right now."
In answer to Schiff's specific questions, Cochran said that, while she does serve on the Clean City Commission and favors the use of alternative energy, she does not favor a mandate requiring residents or municipalities to develop a certain amount of wind or solar power capacity by a certain date. At the same time, she also disagreed with the idea of providing tax rebates for citizens who do purchase solar or wind generation systems, arguing that just because some can afford such devices doesn't mean everyone else should pick up the remaining tax burden.
"I shouldn't have to pay more taxes than, say, John Salem because he can afford it," she said. "Fair is not what's good for me, or what's good for (others), fair is - there's no such thing."
[The following was cut from the print edition of the Miner due to lack of space, but was included in the reporter's original story]:
In a similar vein, Vice Mayor Watson told Schiff she did not support providing tax or impact fee abatements for corporations above a certain size in order to give them a greater incentive to relocate to Kingman.
"I don't care if a store is 1,000 square feet or if another one is 100,000 square feet," Watson said. "I personally believe that, if you offer special incentives, then you start kind of a wave of what's fair for some people and not fair for other people."
Asked what he thought was the ideal size for Kingman, Anderson said that, before the city looks at annexing new areas like the New Kingman-Butler region, it should first look toward making sure its current population is adequately employed and educated.
"Twenty years from now, we could be 20 percent bigger than we are, but to put a number on the wall and shoot for it, that's not the right approach," he said. "If we can develop smartly, and we can do it without increasing taxes and fees to get there, then we should."
Anderson noted that one way Kingman can grow smartly is to launch initiatives to help educate citizens on how they can make their homes, businesses and even public institutions more energy-efficient, which he claimed would drive down energy demand fees and save everyone money in the long run.
"You need to look at what you can do to reduce your costs," he said. "I believe in alternative energy, but what I also believe in is conserving your resources, fixing your house up, and taking those dollars so that you can spend it on what you want."
Mossberg faced the difficult question of whom he would lay off, should state-shared revenue cuts force the city's hand. Mossberg admitted that, while the city would likely have to cut essential services, he hadn't spoken to staff enough to gauge which department should experience the first layoffs.
But Mossberg was aided by an interruption from Mayor John Salem, who noted that, should state-shared revenues be cut, virtually every department in the city would be devastated, from the city manager's office to police and firefighters to parks and recreation. In a later question, Mossberg added that he could support the idea of employee furloughs in lieu of layoffs, though he said that, to be fair, any furlough program should rotate between the departments without focusing on any one.
A sixth Council candidate, write-in Jason Marino, attended Monday's meeting but did not speak. He has instead been invited to speak at the Men's Club's next meeting in February.