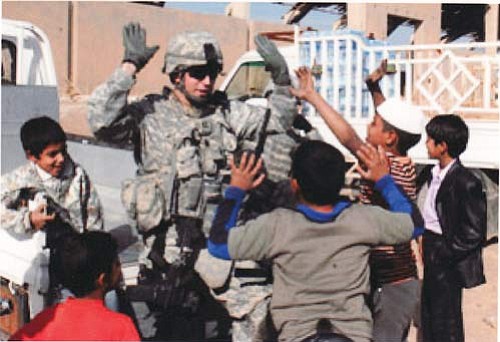 Originally Published: January 20, 2010 6 a.m.
KINGMAN - Virginia Tech honored a local solider as Hokie Hero during December's Chick-fil-a Bowl at the Georgia Dome in Atlanta.
Capt. Gary Grassi, Jr., a 1999 graduate of Kingman High School and a 2003 graduate of Virginia Tech, was one of two soldiers honored at the game. Grassi is currently serving his second deployment in the 4th Stryker Brigade, 2nd Infantry Division at Camp Liberty in Iraq. Grassi and another solider from Cleveland were highlighted during the radio broadcast of the football game, on the Virginia Tech Corps of Cadets Web site and corps alumni Web site. The school has been honoring alumni of its Corps of Cadets program during sporting events since 2006.
Grassi is one of his unit's civil affairs officers. He and others in the unit not only try to keep the peace in Iraq, they also try to reach out to the people of Iraq by bringing them food, toys for the children, helping them secure clean water, medical assistance, apply for small business loans and more. The unit recently supplied kids with soccer balls and school supplies during Operation Kickball.
Gary and Polly Grassi, Grassi's parents, live in Kingman. Grassi and his wife live in Louisville, Ky.
"I'm very proud of him," Gary said. "He makes sure those communities (in Iraq) get what they need."
Gary is a Navy veteran who served in Vietnam; Grassi once told Gary that he was the inspiration for Grassi to join the Army. Gary tries to keep his son and the unit well stocked with treats and supplies for the Iraq kids. He credits The Mail Room on Stockton Hill Road for getting the packages to the troops in one piece.
Grassi will return to Kingman to visit his parents in June or July.