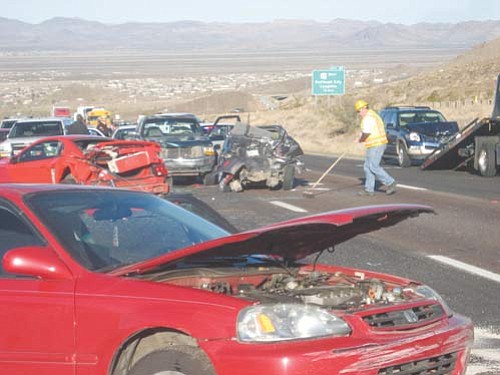 Originally Published: January 26, 2010 6 a.m.
KINGMAN - The morning sun breaking over Coyote Pass is being blamed for a massive traffic accident on southbound U.S. 93 Monday morning.
Four people were transported to Kingman Regional Medical Center with various injuries. Battalion Chief Bill Johnston with the Kingman Fire Department, one of six agencies that responded to the call just after 8 a.m., said that judging by the damage to the vehicles involved, he was surprised no one was killed.
At least two of the 10 cars strewn about the half-mile-long accident scene were so extensively damaged that their rear bumpers ended up in the back seat.
The accident led to the highway being shut down for more than an hour and dozens of motorists were trapped in the backup behind the scene, including one young mother on her way to be induced into labor.
The pregnant woman, Janifer Cecena, was a passenger in a car that was sideswiped as motorists attempted to avoid the cars involved in the initial crash. She was OK, but experienced some discomfort while waiting for emergency responders to clear the scene.
One lane of traffic was reopened after 90 minutes.
Bill Jones and his passenger from Paulden were on their way back home from Laughlin and were in front of the car with the young mother. Jones' car received only minor damage, including a broken side view mirror.
Jones said the sun coming over the pass blinded drivers.
"You couldn't see five feet in front of you," said Jones. "You could have painted the windshield black. I cut the wheel hard to the left and had only 30 feet to stop."
Donovan Cranford of Golden Valley was behind the first cars to lose control. He also cited the sunlight as a factor.
"Cars in front of me were just spinning around, so I turned to the right. I knew I had to get out the way," said Cranford, who avoided damage to his vehicle.
Responding agencies included the Arizona Department of Public Safety, the Mohave County Sheriff's Office, the Kingman Police Department, the Kingman and Golden Valley Fire Departments and River Medical personnel.
Many motorists coming from Golden Valley avoided the backup by taking Aztec Road south to Shinarump Drive to I-40.