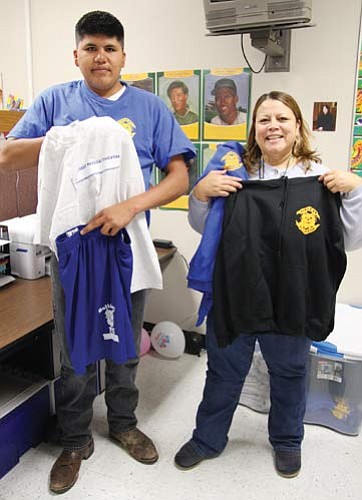 Originally Published: January 27, 2010 6 a.m.
KINGMAN - With the second semester at Kingman High School well underway, more and more students have been stopping by Dropout Prevention Director Girlie Forman's office, not because they're in danger of dropping out, but because they're cold.
That's because, in addition to dropout prevention, Forman also is responsible for handing out free school uniform T-shirts, sweaters and jackets to those students whose families cannot afford them. The problem is, with winter still bearing down on the community, most of her supply of jackets and sweatshirts has been depleted, and the flow of kids who need them is still coming strong.
"By now, the shirts they had first semester are really worn out, and I still have students coming in everyday, but supplies are low," Forman said. "First semester alone, I served 191 students."
At the end of last school year, Forman said she was able to spend $1,100 on about 245 extra school uniforms. But since each student who comes to her is eligible to receive two uniform T-shirts and a sweatshirt, Forman has had to rely on charity from the community to ensure she has enough shirts so each student is able to meet the school dress code, which requires students to wear school jackets for any cold weather above 50 degrees.
"There was a period of time there we didn't have any sweatshirts left and we had to turn people away, and that really bothered me because I knew it was going to get colder," she said.
"Thank God for Rotary and the Student Council, they came through with 30 sweatshirts," Forman said.
According to KHS Principal Pat Mickelson, KHS received a large number of monetary donations early on in the year, but now, much of that money has been spent without enough coming in to replace it, right when it's needed most.
"Where we run into problems is when you need a more expensive item like a hoodie, or a jacket, or a fleece-lined sweatshirt," she said. "A lot of the money donated to buy shirts and hoodies early on has been used up, and now we're in the thick of winter."
And the fiscal pain isn't just limited to clothes, either. Mickelson noted that, while the school year started off with about 38 percent of students in the free or reduced lunch program, that number has since ballooned to more than 50 percent, a sign she says shows just how much need is out there right now. "That's kind of a barometer of what your demographics are at a school," Mickelson said. "Anytime you get over 50 percent in a secondary program, that's a sign that times are really tough, and times are tough here."
The school has tried to do its part by reducing or entirely forgiving fees for certain classes that have material costs, such as science or home economics. But those thousands of dollars in lost fees add up, and Mickelson is worried some classes might be forced to cut back lessons due to lack of available materials.
As the number of students who resort to assistance programs continues to rise, Forman fears the actual number of children in need is higher but going unreported due to the stigma some students associate with asking for assistance.
"I know for a lot of the kids, there's pride, and they don't want to ask for help," she said. "I even went and spent money out of my own pocket to buy pencils and notebooks for these kids, because the school doesn't provide it and these kids, they just can't afford it."
Forman is hoping the community will continue to donate throughout the second semester. She's primarily looking for sweatshirts and physical education uniforms, since the freshmen class is the single largest at KHS, and each student is required to take P.E. She said anyone interested in donating new or previously owned school uniforms can do so by calling her at (928) 692-6494 or by dropping them off in room D104.
"I'm really hoping the community can come and do this, so we can provide for the students in their second semester."