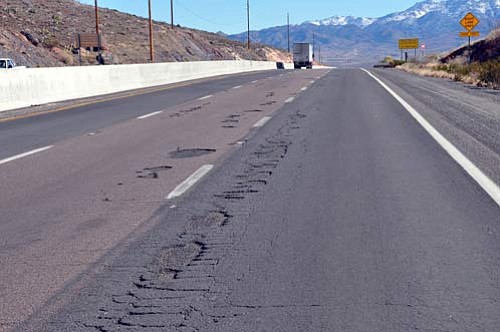 Originally Published: January 29, 2010 6 a.m.
Arizona Department of Transportation officials said late last year that their agency was facing a multi-million budget shortfall that caused them to dramatically reduce services.
Some of their emergency measures included closing some offices, not going forward with various highway construction, discontinuing maintenance projects and letting 115 ADOT employees join the ranks of the unemployed. Most of those laid off were customer service workers at the various motor vehicle department field offices throughout the state.
Is this shortfall in part due to an ineffective and wasteful workforce and poor management at the top of the ADOT food chain? Or is it mainly because other officials in control of the state's purse strings have taken millions of dollars away from ADOT to help make up other deficits?
Will the general driving public suffer because of the reduction in services? More than likely.
According to ADOT Director John S. Halikpowski, who was appointed by Gov. Jan Brewer when former Director Victor Mendez left for his new job in the Obama administration, it is the state legislature that's to blame because it took the $530 million that was cut from transportation funding in hopes of closing the huge state budget shortfall. That, in turn, created turmoil at ADOT and caused them to implement drastic measures.
Part of ADOT's plans is to reduce its use of state highway funds by 25 percent. That includes the temporary closure of 13 of the 18 ADOT-operated highway rest areas, shutting down 12 motor vehicle division field offices, deferring $370 million in highway construction projects, curtailing maintenance activities, consolidating customer services, and initiating a 10-percent staff reduction.
ADOT also implemented a mandatory two-day unpaid furlough last fiscal year for every ADOT employee. That equates to approximately a 10-percent pay cut for employees. There is a good chance that they will receive an additional 5-percent reduction in the near future.
With all of the cuts being made, everyone wonders whether top management at ADOT decided to take a pay cut (such as the mandatory two-day unpaid furloughs) or are they continuing to take home their normal pay, still enjoying the perks of driving government vehicles, still seeing funds being paid into their retirement and medical and dental insurance programs? Is Brewer allowing ADOT to take the brunt of the budget funding reductions or has she decided to spread the reduction in services to all agencies in the state?
According to records, top ADOT officials collectively make close to $1 million annually. That breaks down to:
• $121,655 for Halikowski;
• $122,055 for Chief of Operations John Bogert;
• $108,304 for Executive Director for Planning and Policy John McGee;
• $128,700 for State Engineer Intermodal Transportation Division Floyd Roehrich Jr.;
• $115,878 for Assistant Director Motor Vehicle Division Stacey K. Stanton;
• and a whopping $134,911 for Arizona Highways Magazine Publisher Winfield Holden. That's not bad for a person who is charge of publishing a monthly magazine.
The major measure instituted by ADOT most noticeable to the general driving public is the closing of MVD field offices, not making the necessary repairs to the many state highways, and the temporary closing of 13 rest stops across the state.
ADOT says closing the rest stops was a necessity, but I believe they could have tightened their belts in other areas and kept the rest stops open.
Even though Arizona owns the interstate highways located within its borders, the agreement between the federal government and Arizona, 23 USC 111 - Sec. 111, contains a clause providing that Arizona will not allow automotive service stations or other commercial establishments to be constructed or located on the rights-of-way of the interstate system unless the business was in existence before Jan. 1, 1960.
Maybe it's time for Arizona officials and the Legislature to contact the federal government and attempt to get the law changed. Then they could negotiate with the various fast-food industry giants to see if they would be interested in constructing outlets at some of the closed down rest stops.
They could be given a long-term lease that would provide them a location for their restaurants at no cost, and all they would be required to do is maintain the rest stop, pay the minimal cost of electricity for lighting, and maintain the bathroom facilities. This type of operation would not cost the state one penny, and the vendor would also be required to provide all of the paper products. Then the people trekking along the asphalt jungle would have a safe place to pull over for a pit stop, to stretch their legs and take a bathroom break.
All of the rest stops would not have to be maintained by a large-scale fast-food outlet. Even the small independent food trucks, the type that visit the various construction sites to sell food to the workers, would be perfect. They could set up at the rest stops for free and sell their food products or sell trinkets made by local artists, while being required to maintain the bathroom facilities. They could also be required to sign a "hold-harmless agreement" and to provide liability insurance.
Many states are getting around 23 USC 111 - Sec. 111 by designating some of their freeways as turnpikes or thruway systems. Because of the designation, they are allowed to have service plazas that are open 24 hours a day and offer a variety of fast-food dining options, gift shops, ATMs, state lottery, public telephones, Internet access, 24-hour news broadcasts, travel information, attraction tickets, picnic areas, dog walks and other amenities. Most of these service plazas have both men's and women's restrooms that also have changing tables.
I bet the typical Arizona driver would not mind having a small amount added to their MVD fees so that they would have OPEN REST STOPS instead of the concrete barriers that now block the entrances to them. Arizona could also add service fees to out-of-state commercial trucks for allowing them to utilize Arizona's turnpikes and thruway systems.
Another thing ADOT officials could do is start monitoring their workers' performance and terminate employees who are not doing their jobs, and tighten the purse strings on the funds they pay to outsource jobs that could be performed by ADOT employees.
Matt Burdick, whose salary tops $75,000, leads ADOT's Communication and Community Partnerships division (public relations), and he oversees communication with the public, the media, communities and counties.
There are numerous ways ADOT could curtail excessive spending, thus keeping some of the facilities and services open for the motoring public. It is rumored that Burdick's department has outsourced public relations to various civilian companies in the amount of more than $11 million since fiscal year 2007, even though ADOT staff is very capable of handling the workload.
There are numerous ways that Arizona and ADOT officials could save money instead of inconveniencing the general motoring public.
Just one example is to complete a time-phased evaluation of how to perform services and cutting costs at the same time. Instead of replacing certain vehicles after only a couple of years, why not extend the use of the vehicles for a couple more years?
Could the underlying problem of lack of funds for ADOT and the state itself stem from the slumping economy, or is it actually from poor managerial decisions?
Only time, and possibly a voter-mandated audit of the state budget, will bring forth the true shortfall justification.
Closed
Thirteen of the 18 ADOT-operated rest stops in Arizona are currently closed due to the department's budget pitfalls. They are listed below along with the nearest facilities:
• Haviland on I-40 - 16 miles to Lake Havasu City interchange at I-40 and Highway 95, 23 miles to Kingman;
• Parks on I-40 - three miles to Bellemont Truck Stop
• Meteor Crater - 17 miles to Winslow, 34 miles to Flagstaff
• McGuirevillle on I-17 - 10 miles to Camp Verde, 43 miles to Flagstaff
• Mazatzal on Highway 87 - 17 miles to Payson
• Salt River Canyon on Highway 60 - 35 miles to Globe
• Hassayampa on Highway 60 - six miles to Wickenburg
• Ehringburg on I-10 - four miles to Blythe, Calif., 13 miles to Quartzsite
• Bouse Wash on I-10 - seven miles to Vicksburg, 34 miles to Burnt Well Rest Area
• Sacaton on I-10 -- 12 miles to Casa Grande
• Mohawk on I-8 - 12 miles to Dateland, 26 miles to Wellton
• San Simon on I-10 - 20 miles to Lordsburg, N.M., 9 miles to San Simon
• Canoa Ranch - 8 miles to Green Valley