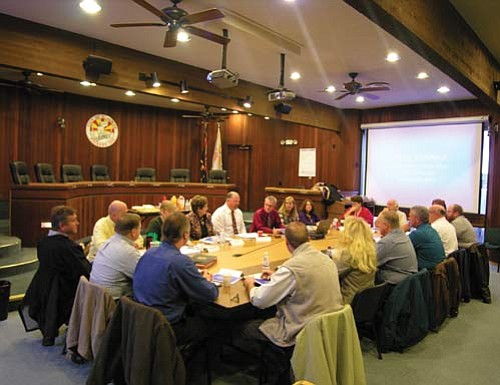 Originally Published: January 29, 2010 6 a.m.
KINGMAN - The Kingman City Council on Thursday added public safety radio equipment and a new fire station to its list of capital improvement priorities for the coming fiscal year, though funding for either project remains an open question.
In a special budget meeting at City Hall, councilmembers agreed that upgrading the city's aging radio system and providing better fire coverage to the city's growing east bench area were both absolutely essential projects, and the logical next step to tackle on the city's sprawling $250 million capital improvement wish list.
The east bench area, located north of Interstate 40 and east of Andy Devine Avenue, is among the city's fastest-growing areas, especially with the recent construction of Hualapai Mountain Medical Center, White Cliffs Middle School and the upcoming Desert Willow Elementary School. However, the two nearest fire stations, Nos. 2 and 4, are each more than three miles away, and response times have been exceeding six minutes in some cases.
According to the Finance Department, the estimated cost of designing and constructing a new fire station in the east bench would be just over $3 million, not including the annual staffing costs, which City Manager Jack Kramer estimated could run as much as $900,000.
Mayor John Salem noted that the capital costs might be paid for in part by new revenues from the city's bed tax, which could finance up to $2 million.
For the staffing costs, Fire Chief Chuck Osterman suggested the city might have some luck going after a Staffing for Adequate Fire and Emergency Response grant, which could cover staffing entirely for up to two years before the city would have to pick up the slack. But Kramer warned Council against simply assuming the economy will strengthen enough by then to offset the new costs.
Finance Director Coral Loyd said the construction costs could also be covered by a bond issue, which could appear on the ballot as early as November, though the challenge to Council will be convincing enough voters that the project is worth it. Councilwoman Carole Young suggested the bond could also include the $607,500 cost of updating the antiquated public safety radio system, which has reached capacity and will become increasingly prone to service failures in the coming years.
Loyd suggested the public may be more supportive of a bond if they knew they were voting on public safety issues. Councilwoman Robin Gordon agreed, adding that it should be Council's responsibility to pitch the bond to the public by highlighting its benefits and pointing out the consequences of failing to pass it, such as a possible increase in insurance rates for families living in the east bench area due to the lack of consistent fire coverage.
But Vice Mayor Janet Watson argued against the idea, saying that city residents have already been hit with enough new costs in the past year. With the economy still sluggish and unemployment hovering around 10 percent, Watson said she had little confidence voters would approve yet another financial burden, adding that it would only make them more skeptical of future bond issues.
"I talked to a lady the other day who was in tears about what's happened to her sewer bill, water bill," Watson said. "People are losing jobs, people are losing homes. I absolutely would love to have Fire Station No. 5, the 911 center, all these things, I just think you can only go to the public so much and say, 'These are our needs, and we need you to pay for it.'
"Until this economy begins to turn around, I think it would be a waste of time and a waste of money to put a bond issue on the ballot," she added. "I just want to make that clear now."
Young countered that she would rather take the bond to a vote of the people than be forced to pass an even more unpopular sales tax hike a few months later. But Watson maintained she didn't support either idea, no matter how necessary the projects might be.
"I want these projects, we need these projects, but most of the people in our community are not buying a lot of things, even things they need," Watson said. "If we go again (with a bond issue) when the community is not ready ... every time you put one together and people say no, it gets harder and harder and harder."
Councilman Ray Lyons said he believed the 2007 bond election failed mainly because groups with a vested interest in defeating certain parts of the bond told voters to simply dismiss the whole thing as a no-confidence vote against the previous Council. With a different set of people on Council and just two clearly defined public safety items on the bond this time around, he said the voters might be more supportive.
Mayor John Salem said he wanted to solicit opinion from the public before submitting any request for a new bond election. He urged any citizen with an opinion on how to pay for the new public safety projects to e-mail him at jsalem@cityofkingman.gov.