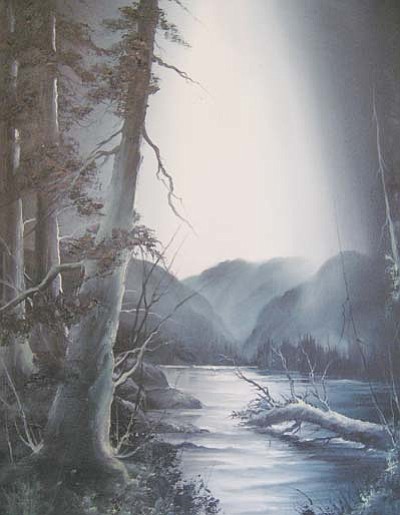 Originally Published: July 1, 2010 6:01 a.m.
KINGMAN - Arnold Langley's wife didn't care about attention or recognition.
"She would never let me share her paintings like this while she was alive," Langley said.
Johanna Catharina Maria Bruckmeir, 78, died June 19. She had been diagnosed with Alzheimer's three years ago but steadfastly refused to let her husband photograph her or share her artwork with the public up until the day she died.
Two acrylic paintings, a faded newspaper clipping about her art studio and several old photos of Bruckmeir now hang in the home the couple shared in north Kingman before her illness.
"I just want people to know what a fine artist she was," Langley said.
Bruckmeir was born in Holland in 1933. Her father was an artist, and after she drew her first sketch, he warned his daughter not to become a painter. "It's just too hard a life," he told her.
Bruckmeir eventually moved to the United States and met Langley at an art show at the Anaheim Convention Center in 1969. The pair operated several art galleries in Anaheim, Big Bear Lake, Nevada City and Branson, Mo., before moving to Kingman in 2000.
Langley said his wife took care of the household by day and painted all night. "She mostly painted landscapes, but she could paint anything," he said. "She'd do a painting a day."
The two tried to eke out a living selling Bruckmeir's paintings and Langley's woodcarvings at art conventions around the country. Her most expensive piece sold for $4,000.
"Once I called her from a show and said, 'Hey, I just sold a horse painting,'" he said. "'I'll have another one for you tomorrow,' she said to me."
Bruckmeir was a Renaissance woman of sorts; she spoke four languages, sang Mezzo-Soprano and was a gourmet chef. Langley said other artists were envious of her style and called her "an artist's artist." He hopes her memory will live on through her artwork.
"It is an impossible loss for me, but the rest of the world has lost a great artist," Langley said.
Bruckmeir is survived by her husband, her daughter, Baska, granddaughters Sara and Emma and sister Ada.
More like this story