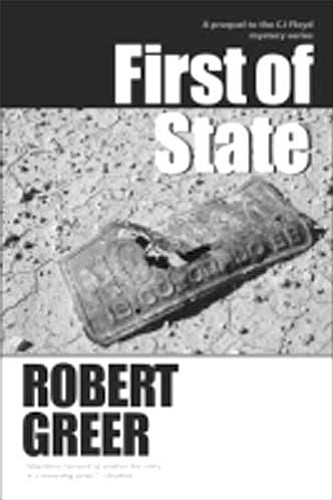 Originally Published: July 2, 2010 6 a.m.
"First of State" by Robert Greer; 978-1-55643-915-5; Pages: 400; $27.95; October 2010; hardcover; mystery; North Atlantic Books.
Time warps in science fiction writing have brought us "Back to the Future" and its sequels, but rarely do we have a time warp in the form of a prequel of a mystery written by an award-winning author like Robert Greer in "First of State."
This fast-moving story begins with the career of C J Floyd when he returns from Vietnam and tells of his liaison development during his formative years as a bail bondsman and detective.
In Greer's earlier works, there seemed to be a void in character development, though that did not detract from the action or involvement of the reader. Swiftly, readers became enmeshed in the characters as they appeared, and when the story unfolded, it was easy to grasp what this talented author was conveying.
"First of State" is clearly the tying together of all relationships C J had during the five-year span this story covers. Knotted together with a list of players, we watch as he unravels them one by one as Floyd picks his way through leads in an attempt to find the killer of a man he met when he first returned from the war.
Wiley Ames, a recent acquaintance, is shot. A Chinese man is also shot dead in cold blood. At the time of these murders, the police investigated but were unable to adequately solve the deaths to the satisfaction of Floyd. The cases remain open, and he's nagged by the prospect of bringing the perpetrator to justice.
During the ensuing years, Floyd is mentored by his Uncle Ike in learning the bail bond business. Also, he comes to the realization that he is a crackerjack detective. Uncle Ike is ailing through most of the story and cannot assist C J in his sleuthing, but C J calls upon his boyhood chums who readily back him up, even though they are engaged in other pursuits.
Readers are introduced to the intriguing world of antique collecting through the passionate appreciation of certain rare license plates which Floyd collects. He is an eclectic who gathers many objects and holds them for possible financial rewards. However, he is a real collector in the true sense of the word. He is an expert when it comes to the years, types and conditions of his collectibles, and Greer conveys this information throughout the book.
The story revolves around Floyd's quest to find extremely hard-to-find license plates in mint condition, while at the same time attempting to solve several murders.
This book is due out in the fall of 2010. It's a must read for the person who enjoys a good mystery.
Publisher's Weekly
Best-Sellers
Week of June 28
Fiction
1. The Overton Window; Glenn Beck.
2. The Girl Who Kicked the Hornet's Nest; Stieg Larsson.
3. The Lion; Nelson DeMille.
4. The Passage; Justin Cronin.
5. Whiplash; Catherine Coulter.
Non-Fiction
1. Sh*t My Dad Says; Justin Halpern.
2. Medium Raw; Anthony Bourdain.
3. Delivering Happiness: A Path to Profits, Passion and Purpose; Tony Hsieh.
4. Women Food and God; Geneen Roth.
5. The Big Short; Michael Lewis.
Clark Isaacs is an accomplished book critic who is published in local newspapers and national book review lists. He is a faculty member at Mohave Community College in Kingman. Visit http://clarkisaacs.ning.com.