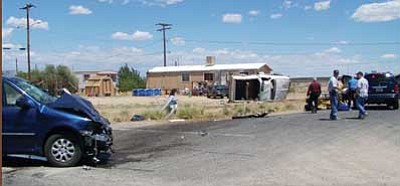 Originally Published: July 2, 2010 6:01 a.m.
KINGMAN - Kingman Police and Mohave County Sheriff's deputies are still looking for a suspect involved in a rollover accident and carjacking Wednesday afternoon at the intersection of Martin Lane and Mallard Drive.
At 2 p.m., KPD Sgt. Bob Fisk said he attempted to stop a white truck with Juan Ortiz, 31, Cheryl Dodson, 26, and Dodson's 15-month-old baby at Swan and Eagle drives.
Dodson was wanted in connection with a fraud case KPD was working on. Ortiz, who was driving, refused to stop even after Fisk turned on his lights and sirens. Knowing that a baby was in the vehicle, Fisk backed off.
"We have no idea why he took off, but we weren't going to pursue him with a baby in the vehicle," Fisk said.
Dodson allegedly tried to get Ortiz to stop, but he refused, said KPD Lt. Rusty Cooper.
Oritz continued to speed through the neighborhood and struck a blue minivan when he blew through a stop sign at the intersection of Martin Lane and Mallard Drive.
Oritz's truck rolled at least once before coming to a rest on its side. Dodson managed to squeeze out of the truck and ran toward Fisk's vehicle with the baby in her arms. Dodson suffered minor scratches and a broken ankle. The baby, who had been secured in a car seat, suffered minor scratches but appeared unharmed.
The passengers in the minivan were also treated for minor injuries.
"It's amazing no one was seriously hurt," Fisk said.
Ortiz fled the scene and, according to MCSO, took the keys to another truck at knifepoint from an elderly man.
He then fled in the man's truck, which was later found empty in the 3600 block of Neal Avenue.
Ortiz, who had a misdemeanor warrant for driving on a suspended license, is now facing six felony counts of aggravated assault, six felony counts of endangerment and one felony count of child abuse.
Anyone with information on the whereabouts of Ortiz should contact KPD at (928) 753-2191 or MCSO at (928) 753-0753.