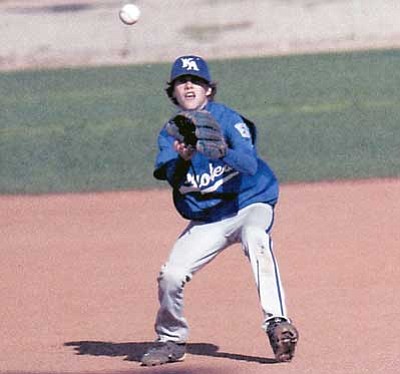 Originally Published: July 2, 2010 6:01 a.m.
KINGMAN - At the end of the school year, the two were voted by their peers to give the commencement speeches at their graduation from Kingman Academy of Learning Middle School.
Now, brother and sister Austin Tomlinson and Ashley Tomlinson are set to bring their bright futures to Kingman Academy High.
When the Tomlinsons began school years ago, Ashley was one year ahead of Austin. However, Ashley had a medical issue at a young age and her parents, Pamela and Tap, decided it would be best to hold her back a year. And it all turned out for the best.
Ashley was a three-sport star for the KAOL Coyotes, playing volleyball, basketball and softball. She said she intends to do the same for the Tigers, but if she had to choose, it would be basketball.
"I just love it," Ashley said. "It's really active. You're always doing stuff and I love the endurance of it."
KAOL girls basketball coach Jason Judd said Ashley is a great all-around player who is athletic. She runs the floor, grabs rebounds and plays solid defense.
"She'll be a great basketball player," he said. "I've coached for a lot of years now, and she is one of the best I've had. I haven't coached many girls who can match her hustle whether in practice or in games. She's got a knack for being where she needs to be when she needs to be there."
KAOL softball coach Greg Winokur feels Ashley will be equally impressive on the field.
"She's the type of player that if you asked her to play any of the nine positions, regardless of whether she's played there, she would play it," he said. "You wish you could clone her."
Ashley's summer training came to an abrupt halt when she dislocated and fractured her pinkie finger shagging flies the other day. Pamela Tomlinson said she expects her daughter to be out five weeks and then pick things up again.
Austin played
5 sports
Austin played three sports on a regular basis for KAOL - football, basketball and baseball - and when things aligned perfectly, he also ran cross country and track. He said his focus in high school, at least for his freshman year, will be cross country, basketball and baseball.
He's really looking forward to the baseball season. "I've been playing baseball since I was 5 years old," Austin said. "I just love the game."
KAHS baseball coach Bill McCord knows what he's getting in Austin. McCord, who gave Austin the nickname "Goat," coached him for two years as a Little League All-Star. Austin is also an original member of the Kingman Krush Baseball Club, which McCord was instrumental in starting in 2005.
"Austin and Bill go way back," Pamela said. "He loves Austin, and I can't say enough about the man and what he's done for Austin and the rest of those kids."
Michael Perrine, who coached Austin in all three of his main sports at KAOL, held up Austin for his effort and how he went about it.
"Goat always gave 100 percent and with a smile on his face," Perrine said. "He's a true team-player. He'll do what is in the best interest of the team rather than take the credit. I could always count on him."
Perrine said Austin's ability to be stellar in the classroom as well as on the playing fields is what makes him stand out from the rest. Austin also attends basketball open gyms and umpires Little League games.
"There is never a dull moment in his life," Perrine said. "He makes for an overall great role model for society."
Doing well in class is something Austin is focused on executing.
"I want to get good grades to stay on the baseball team and get a good scholarship to a good college," he said.
More like this story