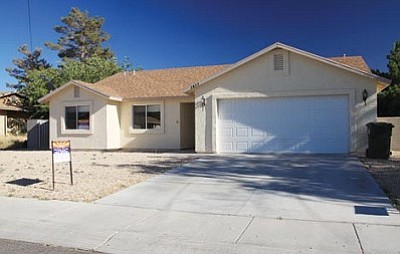 Originally Published: July 5, 2010 6:01 a.m.
KINGMAN - Local Realtors are rejoicing over a decision by Congress last week to extend through September the closing deadline for a pair of homebuyer tax credits, giving local homebuyers three more months to finalize their new home purchases.
Originally scheduled to expire June 30, the tax credits provide up to $8,000 for first-time homebuyers and another $6,500 for existing homeowners looking to move. The credits have provided a much-needed boost to the housing market, both in Kingman and across the nation, particularly in recent months as buyers scrambled to take advantage of the credits prior to the April 30 deadline for contract-signing.
According to the Treasury Department, more than 3 million homebuyers have taken advantage of the credits since they were first made available in 2008 and expanded in 2009. The National Association of Realtors has estimated as many as one million home sales occurred as a direct result of the tax credits.
Evidence of the tax credits' affect on the market was no more apparent than this month, when the nationwide sales numbers for May were released, showing a 30-percent decline in home sales nationwide. In Kingman, home sales also fell but have remained fairly robust compared to sales over the last several years following the market's collapse in 2007.
According to the president of the Kingman/Golden Valley Association of Realtors, Kathleen Murray, June sales of single-family homes appear to be following the downward trend, but only slightly. As of June 27, local Realtors had closed on 84 single-family home sales, but with many more potential sales pending, the final numbers could be substantially higher when they are compiled this week.
Murray said the extension of the closing period for the tax credits will likely help buoy the Kingman housing market further into the year before it will have to stand on its own. For that reason, it's likely the city will continue to see above-average home sales for at least the next few months.
Unfortunately, Murray noted, the tax credit extension only applies to those homebuyers who were already under contract as of April 30, meaning those just now looking to buy a home will not be eligible. And with austerity measures and deficit-cutting now leading the narrative in Washington, Congress has given no indication it plans to restore the credits anytime soon.
"I don't know we were having as much of a problem in Kingman meeting the end of June closing deadline," Murray said. "But people who were getting ready to close, maybe their paperwork was delayed, and it's going to be very helpful to them."