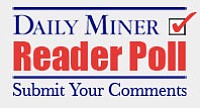 Originally Published: July 9, 2010 9:28 a.m.
Our new Reader Poll asks, "Should Arizona sue the federal government for violating federal immigration law by allowing cities to give sanctuary to illegal immigrants?"
Feel free to leave comments below. Poll is located on the lower right section of the home page and all news pages.