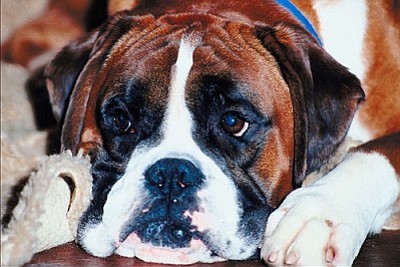 Originally Published: July 12, 2010 6 a.m.
KINGMAN - A Mohave County Superior Court judge threw out contempt of court charges July 7 against a Golden Valley couple for violating a court order to stop advertising their purebred boxers.
The Mohave County Civil Attorney's Office filed a civil complaint in February against Tai and Jason Barnes for operating Sundance Kennels without a health or zoning permit.
Judge Lee Jantzen ordered the couple in March not to sell any puppies, take down the Sundance Kennel Web site and stop advertising any grooming, boarding or breeding services.
Deputy County Civil Attorney Dolores Milkie told the court that the Barnes were still operating a Web site for the kennel, that the couple had advertised the puppies on Twitter and posted filers for the puppies in Kingman.
The Barnes pointed out that Jantzen's ruling does not have a specific date as to when the Web site was to be dismantled. The site was pulled from the Internet in June, Jason Barnes said. He also denied putting up any flyers and said the couple does not have a Twitter account.
Jantzen reaffirmed that his March ruling against the Barnes would remain in effect until the couple received permits for the kennel. He tossed the contempt charges after agreeing that the March ruling did not have a specific date to pull down the Web site.
The Barnes started to build a garage with a grooming room for their champion boxers. The couple did plan to breed the dogs but were not offering grooming or boarding services to the public.
In October 2008, the couple was notified that they were building a kennel without the proper permits. The Barnes said they tried to work with the county in order to right the matter, but the cost and requests from the county became too much.
The Barnes filed a civil rights complaint against the county on June 2 claiming the county violated their First, Fourth, Fifth and Seventh Amendment rights, as well as conspired to deny the Barnes their rights.