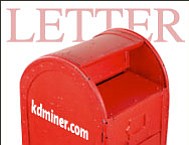 Originally Published: July 12, 2010 6:01 a.m.
We would like to thank Dr. Smith, Dr. Thomas, Dr. Khan, and the nursing staff and especially Jessica of the maternity floor at KRMC for their kindness and love after the death of our beautiful baby boy.
They were very kind and loving during this very difficult time and we know they did everything they could to save him. Thank you so much.
Mark and Jennifer Hannan
Kingman