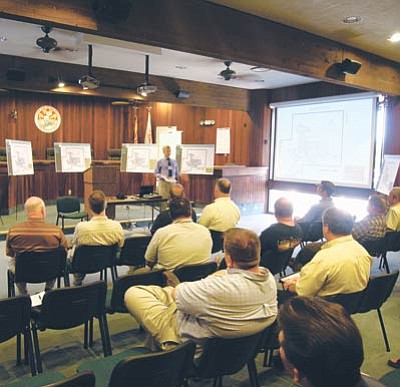 Originally Published: July 14, 2010 6:01 a.m.
KINGMAN - While it won't resemble Los Angeles anytime soon, Kingman's traffic situation is only going to get worse over the next 20 years unless some proactive measures are taken, and soon.
That was the conclusion reached by Bryan Patterson, an engineer working with the Arizona Department of Transportation to help craft a new long-term construction plan for the city.
Patterson was one of a number of ADOT guests at a meeting held Monday afternoon at city hall, where the public was invited to share its concerns about Kingman's ongoing transportation situation.
In his opening presentation, Patterson discussed a series of slides his firm had created predicting the future traffic trends for the Kingman area's collector and arterial streets.
With the surrounding population set to balloon by as much as 25,000 over the next two decades, Patterson said traffic along Kingman's busiest streets - Stockton Hill Road, Airway Avenue, Andy Devine Avenue and Hualapai Mountain Road - can be expected to exceed 40,000 individual trips per day by 2030.
This, he said, could result in deficiencies that would leave large stretches of Kingman's roadways gridlocked during peak hours, not unlike the situation that already exists along much of Stockton Hill Road during rush hour.
Patterson described six levels of service used to determine the effectiveness of a given roadway's ability to handle traffic, with grades running from "A" for next to no traffic to "F" for total, immobile gridlock. He said the service goal of most major roads is level C - fairly busy but still easily manageable for drivers.
Currently, Patterson said, most of Kingman's major roads meet or exceed level C, though much of Stockton Hill Road is already in the D range. While none of Kingman's streets are likely to reach E or F levels, Patterson warned that the other most frequently trafficked streets are likely to follow Stockton Hill to the D level over the next two decades.
"They're going to require some kind of improvements, whether it's intersection improvements, roadway widening or other transit service," he said. "Whatever the case may be, what you have today is not going to meet your long-term needs."
But Patterson noted that he was not there to offer solutions, rather to solicit them from the public. And those who turned out for the meeting did have a few suggestions.
Perhaps the most notable was former City Councilman Paul McCormick's suggestion that the city needed another north-south corridor parallel to Stockton Hill Road. He said that during his time on Council, he had been told that Interstate 40 was too low to develop an underpass to connect Fairgrounds Boulevard and Burbank Street. He suggested that ADOT possibly revisit this idea, developing Fairgrounds/Burbank into a full-fledged four-lane thoroughfare. He also suggested possibly designating Stockton Hill as northbound-only, with southbound traffic redirected to another major north-south street.
Another resident, Mike Kitchen, spoke up on behalf of bicyclists, asking ADOT and its community partners to look into improving shoulder areas for bike traffic and making sure that existing bike lanes are extended so that they are consistently applied across the city.
Kitchen also suggested more esoteric ideas, such as implementing roundabouts along Stockton Hill Road to even the flow of traffic during peak hours and make it safer for cyclists. Additionally, he suggested ADOT look at possibly narrowing the lanes of some of the city's wider thoroughfares, which he argued would cause motorists to drive more slowly.
Several members of the audience, including Planning and Zoning Commissioner Bill Lacy, stressed the need for an alternate route from Kingman to U.S. Highway 93, especially in the event of an accident at the intersection of Beale Street and Interstate 40. He suggested ADOT revisit an idea it considered last year about developing Anson Smith Road as an alternate route from I-40 to U.S. 93.
Resident Mike Taylor, himself a member of the Kingman Airport Authority, argued in favor of restoring a Kingman Area Regional Transit bus route to the Kingman Industrial Park. He reasoned that, as the area's single largest amalgamation of private employers, it only made sense that the industrial park should be on KART's list of stops. He also argued that the transit service's fees were currently too high, though that drew a quick rebuke from Councilwoman Janet Watson, who was also in attendance.
Watson told Taylor that KART's fares don't approach even 20 percent of its overall funding, with much of the rest coming from government grants. She added that KART did once have a route to the industrial park, but it had been canceled due to lack of patronage.
ADOT's project manager for the traffic study, Justin Feek, thanked participants for their suggestions, adding that they would be analyzed by ADOT's community partners and put into an action plan, which would be the subject of a second public meeting some time in November.
But Monday's meeting was not the only opportunity for the public to comment on Kingman's transportation system. From now through July 26, area residents both inside and outside the city limits are invited to visit the transportation study's Web site at www.azdot.gov/mpd/systems_planning/kingman.asp and submit any concerns or suggestions they have to Feek. He can be reached via e-mail at jfeek@azdot.gov or over the phone at (602) 712-6196. The public can also mail comments to Feek care of KDA Creative, 4545 E. Shea Blvd. Suite 210, Phoenix, AZ, 85028.