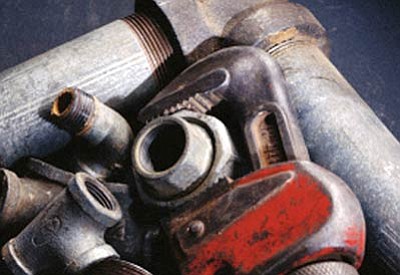 Originally Published: July 18, 2010 6 a.m.
The plumbers in this area are working overtime; clogs are beginning to slowly - so very slowly - break apart ... just a bit. Blockages, in place for years, are starting to dissolve. There's still a lot of work ahead, certainly, but I'm confident the plumbers will see this dirty job to the end.
I call these clogs Kingman Kwagmires (because of the cute K thing), and they can be found throughout our community. The county government, for example, has a bunch of them. As soon as you clean one up, three more pop up in its place. It's very frustrating.
One long-time KK is the Mohave County Fair Association. This non-profit, which leases the fairgrounds from the county for 10-cents a year, is set up to manage the property and bring in events. It is run by a Fair Board, which seems to be where the Kwagmire begins. Ask 10 Kingmanites at random what they think of this board, and you're likely to hear eight offensive comments, one shrug of the shoulders and one, "Who?"
Fair Board members are not Kingman's friendliest folks. I could fill a Dumpster with complaints I've received over the years concerning their treatment of residents. Some of the members' attitudes are frankly childish, and they refuse to work well with others. Some people are disgusted to the point that they now refuse to even go to a county fair. That's sad.
The way the contract between the association and the county is worded makes one wonder why there isn't more oversight. Former Supervisor Pete Byers talked to me about that before he left office. He wondered why more wasn't done to clean that place up. He was on his way out, or he said he would have demanded more from the association before signing the current contract, which runs through 2019.
In reality, the contract should be null and void because it calls for a racing event to be held there every year. It doesn't specify horse racing, just that a racing event must take place. I've got a few suggestions that would pack that park with spectators.
How about take the paychecks from everyone at the county, erase the names on them, then let county employees race to collect the highest amounts. Of course, County Manager Ron Walker's check would be the one everyone would want, but I hear he runs every day, so some of the other race participants might want to train for a month or two before the event.
Maybe the fairgrounds could be the starting point for illegal immigrants to run back across the border after the new law goes into effect July 29. I'm sure people would pay to see former P&Z Chairman Earl Hamlyn chase after me to be on his TV station. I'd even let him drive his big black Hummer.
The truth is, the Fair Board doesn't have to listen to anyone. We know they don't solicit advice from residents. Just look at the fairgrounds for proof of that. A few years back, they came up with the "great" idea of dumping chunks of asphalt all over the place where the carnival sets up. You should see mothers (and dads) try to push strollers over that crap. It breaks your heart to see babies bouncing around like they're competing in an off-road race.
But the plumbers in Kingman have been busy. A few community leaders have been working to smooth over the rough edges on the board. Some of the clog was dissolved (at least partially) when the Kingsmen secured their rodeo at the fairgrounds this year after the board tried to boot them. Bad feelings linger, but there's hope that a trusting relationship can be forged in their future.
The other "affair" was between the board and 4-H, and once again, with the help of Kingman's caring plumbers, a solution was found, as opposed to canning one of the members on the board who actually works. We'll set aside, for now, the fact that one board member rudely asked Miner photographer JC Amberlyn to quit shooting pictures at their last meeting. Some clogs are harder to loosen than others.
Whether the board understands it or not, the fairgrounds belong to everyone in this county. We all have a stake in it. We all want to see more events there, we all would love to see some actual improvements made, and we all deserve to be treated with respect. Just because you have the words "Mohave County" in your name doesn't mean you have to mirror the county in the way it treats residents. It's time to let the plumbers do their job.
More like this story