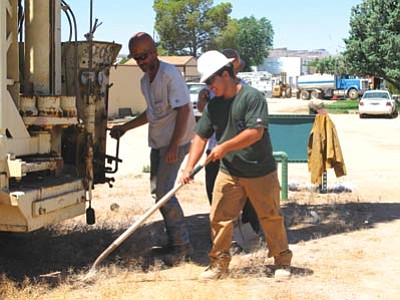 Originally Published: July 18, 2010 6 a.m.
With four weeks of hands-on work experience under their belts, the COalition YOuth TEam (COYOTE) participants have settled into their worksites.
The Kingman Airport Authority is just one of the many businesses participating in this year's COYOTE program. Working at the Kingman Airport are COYOTEs Jeremy Torres and Johnathan Daves, whose instructor is Maintenance Operator Supervisor Del Plumley.
Torres was asked to summarize his experience in the COYOTE program. He said, "It's a great opportunity for youth to come together and work as a group."
"Just about every youth needs to go through the COYOTE program at least once," Plumley said.
Brown Drilling's co-owner, Amanda Kaufman, had COYOTE participant Terrence Reyes hard at work. "It's a lot of work, but I like my job. The COYOTE program helps you learn new skills, and it helps you get a job. I learned that work is not easy," Reyes said.
When Kaufman was asked why she thought the COYOTE program is important for young people to go through, she answered, "Some youth may not have access to the tools that COYOTE offers."
Doug Waite was placed at the Cascades Tissue Group Arizona, Inc. worksite with Manager and Supervisor Thomas Baynes. Waite said, "The COYOTE program is a good program because you get a lot out of it."
When Baynes was asked to give local businesses a word of encouragement to help support the COYOTE program, he said, "Some businesses are going to be fortunate enough to find some good, young people to employ, if their economic conditions allow them to.
"It's important that any of us that have the opportunity, give back to the community."
At Kingman High School, COYOTE Ethan Lyon works with his supervisor, Galen Neiderhiser. Lyon said, "With the COYOTE program, you can learn a lot of exciting skills. You can test the water and see if you like to do one of these jobs. You can see your likes and dislikes, and it gives you a chance to try the job out."
Neiderhiser said, "If you want to make your community better, you have to start with the youth. You can't take somebody off the street and expect them to know how to do the job. The ones involved with the COYOTE program are here to learn. They aren't in the program just to collect a paycheck or waste time over the summer. They're here to learn."
The Kingman Unified School District Information Technology Department has two COYOTEs working this summer. Joshua Scurti and Joseph Ciao work hand-in-hand with their supervisors, IT director William Bigelow and Laurie Cole.
"It's not very hard like I thought it would be. I like the co-workers too; they help us out quite a bit," Scurti said.
When asked about the training program, Scurti said, "I thought it was nice because it helped us learn how to correctly handle an interview, and it helped me properly create a resumé, which helped me get this job."
"I thought it was very informative and I learned things that I am going to use for the rest of my life," Ciao said of the COYOTE program.
Bigelow had much praise for the COYOTE program. He said, "I think our expectation by participating in this program is that it will give them a real-life experience in the job place, and will encourage them to go on beyond their high school education and pursue education in our colleges and universities and then return to our communities to be active members of the workforce here."
"They're doing such a great job that we're running out of work for them." Bigelow said of his youth participants.
Cole said, "To the youth, I say if you can be part of this program then do it, and to the business owners, have an open mind and let these kids in and give them a chance to get that next foot in the door."