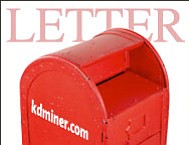 Originally Published: July 19, 2010 6:01 a.m.
Today my family and I lost our 16-year-old pet. She was not just a pet but a close friend and companion to us all. We rushed her the Kingman Animal Hospital but only to realize her days were over.
Both my family and I want to give our deepest thanks to all of the staff members at Kingman Animal Hospital. I have never seen or felt such an outpouring of comfort and understanding during the short time we had left with our beloved Daisy. Their kindness really helped us through.
Again, please accept our grateful and deepest thanks to all of the staff. I, and my family, will always be grateful for your actions. Our community should be proud to have such an excellent care facility for our pet family members.
Harry Traxler
Golden Valley