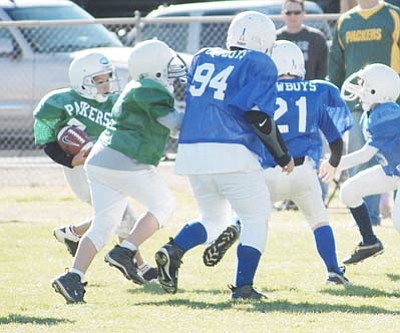 Originally Published: July 20, 2010 6 a.m.
KINGMAN - The loss of a dedicated volunteer who spent the previous 10 years working diligently for the Kingman Youth Football League could have been like pulling the thread that unravels a garment. However, the 2010 KYFL volunteers are moving forward and hope for continued improvement in the league.
Tomma Schritter retired from her duties at the end of the 2009 season. She wore many hats for KYFL, and though she'll be missed, others in the organization are stepping up to ensure KYFL remains a vital part of Kingman as it begins its 37th season.
Approximately 20 Kingman residents were at a meeting Sunday at Cerbat Lanes to get organized for the new season, which starts Sept. 25.
"We're going through a lot of changes, but we're still alive," KYFL board member Ray Smith said at the meeting. "We'll be doing the same things that we've been doing in the past."
Construction at the new Lee Williams High School forced the KYFL to look for another field to play its games. At the meeting, it was said that Kingman Middle School looks to be the frontrunner, but final confirmation for playing there is still needed.
The league is looking for more volunteers, especially in the concessions area. The league believes it's a great opportunity for kids who have to meet community service requirements, as is some refereeing positions when the games are played on Saturdays.
KYFL wants to create the position of head referee this season. This person will coach the kids who referee and schedule the games for them.
During the week of Aug. 23-27, KYFL will make the effort to take the league into the elementary schools and pitch its program. The league offers a program that sponsors players or set up a payment plan on an individual basis.
"We just don't want anyone to miss out because of financial need," Smith said.
Registration for the KYFL will be held Sept. 2 at Firefighter's Park at Detroit Avenue and Fairgrounds Boulevard from 5-7:30 p.m. The league-sponsored "Hell Week" runs Sept. 7-9, followed by a draft Sept. 10. Team practice begins Sept. 13 to prepare for the season.
"The big thing is that we're going in the same direction," Smith said. "It's the same KYFL. It's about the kids and their having fun playing football and cheerleading."