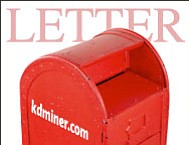 Originally Published: July 20, 2010 6:01 a.m.
My name is Mike Cobb. I would like to remind voters in the Kingman area that the primary elections is set for Aug. 24. The last date to register to vote is July 26. Early voting begins July 29.
I am running for the Kingman constable position. This office and a couple other offices will be determined in the primary elections. Arizona has the open-primary rule. During the primary election there are three parties available to vote for: Republican, Democrat and the Green Party. Voters registered as either Independents or Party Not Designated can choose which party they would like to vote in. But you can only choose one party for every office available, not different parties for different offices.
This is only available during the primary election and will not change your party affiliation. I urge everyone eligible to vote to register to vote. Then please vote in both the primary election and the general election on Nov. 2, 2010.
Thank you.
Michael Cobb
Republican Candidate for Kingman Constable