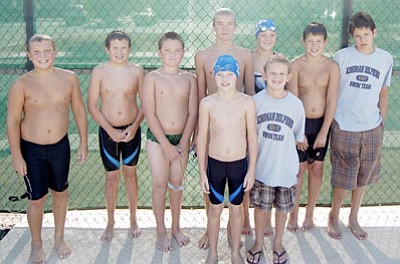 Originally Published: July 22, 2010 6 a.m.
KINGMAN - When the Arizona Age Group Championships ended Sunday at Centennial Pool, the Kingman Dolphins Swim team added four swimmers and 10 events for the 2010 Arizona Swimming Long Course Age Group State Championships that begins today in Tempe.
A total of 15 swimmers in 59 events are scheduled for the Dolphins, including several top-eight seeds. There are three relay events where KDST will put two teams on the blocks, which is a first for the Dolphins.
The 10-and-under boys lead the way for the Dolphins. This age group makes up eight of the 15 swimmers who will be at state today. Marco Narvarte, Brady Cowin, Kael Juelfs and Jacob Catalfamo all qualified for six events. Diego Narvarte made it into five events, Mike Bathauer and Aden Dunton each landed in three, and Matt Bathauer is in the 50-meter freestyle.
Juelfs and Cowin each have two top-eight seeds for the Dolphins. Juelfs is seeded No. 5 in the 100 breaststroke with a time of 1:42.33, and he's seeded No. 5 with a 45.88 time in the 50 breaststroke.
Cowin enters the 100 backstroke seeded No. 4 (1:28.03) and No. 5 in the 50 backstroke (40.78). Cowin has qualified for three Far Western Age Group Championships that thousands of swimmers in the Western U.S. strive for qualifying times. He'd like to add a fourth this weekend.
"My goal is to get a Far Western time in the 100 freestyle and beat Jacob's 200 IM time," Cowin said. "Coach Beth (Mathe) has been pushing us real hard at practice but also has us rested up so we can do well at state."
Marco Narvarte, Juelfs and Catalfamo also have Far Western marks.
In boys 13-14, Patrick Webb qualified for six state events and one Far Western event. He's a top-eight seed at state in the 200 butterfly and the 400 and 1,500 freestyles. Jacob Miyauchi earned spots in the 50 backstroke and 1,500 freestyle, and Kyle Egli qualified for the 50 butterfly for the Dolphins.
Giancarlo Narvarte will swim the 50 butterfly and backstroke in the boys 11-12 division for KDST.
Three KDST girls have also qualified. Christina Barton (10U) will swim the 50 and 100 breaststrokes, Blair Benefield (13-14) is in the 50 breaststroke and Alexis Bathauer (13-14) will be on the block for the 50 and 100 backstrokes.