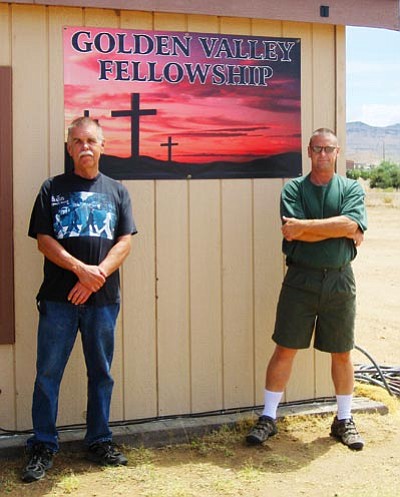 Originally Published: July 26, 2010 5:59 a.m.
GOLDEN VALLEY - A Golden Valley man's dream to start a church is beginning to come true.
In April, Mark Armstrong described to the Miner his mission to start his own church, Golden Valley Fellowship, and bring the Christian church back in line with scripture and move it away from being a business.
"I want to get back to the basics," he said. His goal was not only to provide a place for people to worship, but also a place where those in need could come, and without filling out paperwork or answering endless questions, receive food and the necessary supplies for daily life.
In April, the church only existed online at goldenvalleyfellowship.org. A month ago, Armstrong was able to lease and move the church into a manufactured home on Houck Road in Golden Valley.
The house, like Armstrong's life before finding God, was a disaster inside and out. Armstrong hauled four loads of trash to the county dump, patched the holes in the wall, painted, cleaned and brought the home back to into a habitable condition.
Armstrong has already started to hold Bible study and Christian fellowship classes, Victory classes for those suffering from compulsive behaviors, and Sunday afternoon services in the home's living room.
Armstrong has converted one of the bedrooms in the home into a clothes and toiletries closet for the community. Shelves in the room are packed with baskets of soaps, toothpaste, toothbrushes and more. A circular clothes rack packed with clothing of all sizes takes up most of the middle of room. The walk-in closet in the corner of the room holds even more clothes. Another shelf in a corner has piles of baby clothes neatly stacked on it and shoes of every size are lined up across a table along a wall.
Another bedroom houses Armstrong's office. Stacked neatly in the corner of the office are walkers and wheelchairs ready to be loaned out to area seniors in need. The walk-in closet has a collection of senior toiletries.
The Las Vegas Rescue Mission has donated most of the items to Golden Valley Fellowship and all of them are given out for free to residents in need.
"We've given out more than 6,000 loaves of bread and thousands of other items to area food banks and churches," Armstrong said. He is working with local organizations to reach out to those families and residents who haven't been helped yet by the Western Arizona Council of Governments.
That includes Mark, who is suffering from cancer and undergoing chemotherapy. Armstrong and the members of the church have helped Mark clean up his home and provided him with food and friendship.
"We're willing to get into the trenches and give people what help we have available. We're not scared to take on a project," Armstrong said.
Having a home for his church is just the first step of the journey Armstrong has in store for his church.
The Las Vegas Rescue Mission recently renovated its soup kitchen and donated the old equipment to Golden Valley Fellowship. Armstrong is working to obtain a building, possibly the original Assembly of God Church in historic downtown Kingman, to house the equipment and open a soup kitchen and possibly a home meal program for the area.
Armstrong is also looking at the possibility of opening two emergency shelters in the area, one for men and one for women, in the next few years, as well as a substance abuse counseling program. Currently, the church is offering referrals for free substance abuse treatment for one year to the Las Vegas Rescue Mission.
Armstrong also hopes to partner with other local churches and have the youth from all of the area churches help run the fellowship's clothing and food warehouse. The idea is to teach youth leadership skills, missionary skills, compassion for others - and that all of the Christian churches can work together for a common goal.
"So far, we've done all of this stuff solo. Once we can get the community interested and involved, it will take off," he said. "We're doing this because it needs to be done."