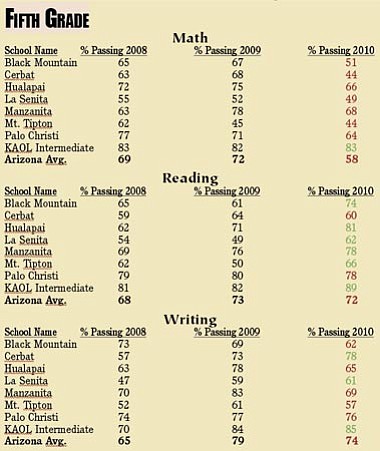 Originally Published: July 28, 2010 6:01 a.m.
KINGMAN - Statewide results for the 2009-2010 Arizona Instrument to Measure Standards (AIMS) test have been released, and the results are certainly less than ideal, with math scores in particular taking a major beating across all grade levels.
With only a handful of exceptions, schools both across the state and throughout Kingman fared substantially worse on the AIMS math test this past school year than in the year prior. Overall, the percentage of Arizona students who met or exceeded state standards for math dropped in every single tested grade level, from third to tenth.
The same goes for the two local public school districts, whose elementary schools also saw near across-the-board drops in math, often totaling in the double digits. Some of the largest drops came in third grade math, particularly in the Kingman Unified School District, which saw the percentage of passing students fall from the 70s and 60s to the 50s, 40s and 30s. One school, Mt. Tipton, even saw its percentage drop from 55 in 2009 to a staggering 12 percent in 2010.
The numbers come as unwelcome, but not wholly unexpected, news to KUSD's Director of Assessment Gretchen Dorner. Dorner said the main culprit for this year's poor math scores was the state's decision to implement a new set of math standards that often rearranged what grades would be tested on which areas of the subject matter.
"This year they took the standards where some concepts were taught in a different grade level in years prior, and they were shifted up or shifted down in grade levels," Dorner said.
"We're not happy about experiencing a decline, but you can't be completely surprised about it either when you're dealing with a new baseline."
Even the Mt. Tipton numbers, while dismal, were not altogether unsurprising, since Dorner said the school's third grade had experienced some instructional delivery issues earlier in the year.
"We made changes at the time, but it wasn't enough to change the percentage of students meeting and exceeding the standard," she said. "Benchmark tests by the end of year showed improvement; they had recouped or regained some of what they had lost during the poor instructional delivery period."
The district has since secured a $1.5 million grant to improve education at the small Dolan Springs school by adding a social worker, a certified librarian, instructional coaches for teachers and an online component for high school students.
While teachers districtwide had learned of the new math standards and had done their best to prepare students for them, Dorner said, until they actually took the test they had no way of knowing exactly how much emphasis would be placed on the individual topics, or "strands" of the subject material. Now that the results are in, however, Dorner said the district has already begun the process of performing a sort of forensic analysis on the results to determine exactly where teachers need to focus their attention when school resumes in August.
"We are breaking down the math AIMS test by concept and strand, analyzing our strengths and weaknesses and looking for trends so we know how we can form instructional decision for the next year," Dorner said. "We have no question in our mind of where we're headed for next year. We've already started our professional development to respond."
She noted that, despite the overall drop in math scores, all but one of KUSD's elementary schools remains in compliance with the Annual Yearly Progress standards set up by the No Child Left Behind Act. The one exception is La Senita Elementary, whose percentage of third-, fourth- and fifth-grade students meeting the math standard fell to 38, 68 and 49, respectively.
La Senita was also one of the few elementary schools to see a marked drop in reading scores as well, with third-grade reading falling 18 points to 51 percent from the previous year. Fourth- and fifth-graders, however, saw substantial improvement, rising 2 and 13 points, respectively.
Most other KUSD elementary grade cohorts saw their reading scores rise or fall by only a handful of points each, though Manzanita Elementary, the district's sole excelling school, saw all three grades' scores rise, in one case by as much as 11 points.
Districtwide, Dorner said each elementary school appears on course to meet the new state reading benchmarks, which roll out next year.
Kingman Academy of Learning Intermediate School remains well above the state averages for each subject and grade level tested, though it also saw its math scores fall in third and fourth grade, with fourth-grade dropping 10 points to 80 percent. KAOL's fifth-grade math score was the one outlier, actually rising from 82 to 83 percent.
District administrator Susan Chan said KAOL's dropping math scores were in line with the statewide drop, and she cited much the same explanation as Dorner - no amount of preparation is a sure-fire bet against new testing standards.
"There's always a learning curve anytime testing information changes, and they made some pretty radical changes to the math standard," Chan said. "Overall, I'm very pleased with how the district performed."
Chan noted that, despite the drops in elementary-level math scores, the corresponding reading scores fared much better, with third-grade reading rising 12 points to 89 percent and fifth-grade rising 7, also to 89 percent. Only fourth-grade reading dropped, from 88 to 86 percent, though it remains well above the statewide average of 71.
"I'm looking at my third- through eighth-grade reading scores, and there's not one cohort below 69 percent," Chan said. "I'm just really pleased. We focused on the standards, and that's what we teach to, and I think we're doing a pretty good job."
Despite the fact that they don't factor into federal standards, both KUSD and KAOL elementary schools fared well overall on the writing and science portions of the test, with both districts beating the state averages.
Dorner noted that, due to various cost and administrative concerns, the writing portion of the test was omitted for third-, fourth- and eighth-graders last year, hence there are no results for those subjects.
Look for additional analysis of the Kingman area middle and high school AIMS results in an upcoming edition of the Daily Miner.
More like this story