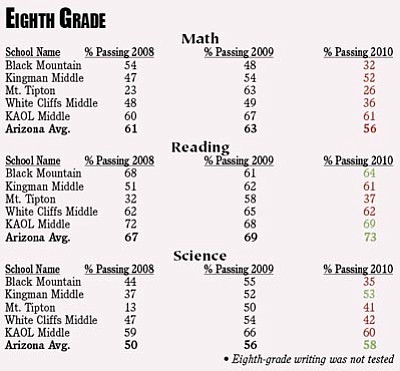 Originally Published: July 29, 2010 6:01 a.m.
KINGMAN - Local elementary schools may have fared poorly on the math portion of the Arizona Instrument Measuring Standards (AIMS) test this past year, but they were by no means the only schools whose scores suffered. Today, the Miner looks at how local middle schools did, and the results are, unfortunately, much the same.
Statewide, the percentage of children who either met or exceeded the state math standards for sixth, seventh and eighth grade fell to 56, 57, and 56 percent, respectively - each marking a decline of 7 percent or more from 2009. That drop was reflected in local schools' scores, which largely fell by similar amounts, due in part to new math standards that caught some grade levels off guard.
According to Kingman Unified School District Assessment Director Gretchen Dorner, the biggest concern this year were the sixth-grade classes, which posted by far the greatest drops in math. Both White Cliffs Middle School and Kingman Middle School sixth-graders saw their passing math scores drop by 20 percent, to 33 and 34 percent, respectively.
"Kingman Middle and White Cliffs both struggled," Dorner said. "But we're not looking for excuses, we're looking for reasons. We're trying to decide if it was an instructional delivery issue or if it's a transition issue, that our sixth-graders are struggling with transitioning to a middle school."
Dorner added that the district would be giving full-time data and coaching support to White Cliffs and Kingman Middle School to analyze their data, support their teaching strategies and work on the standards mapping and instructional delivery.
"Something's going on in the middle schools in sixth grade primarily, and we want to find out what it is," she said.
Sixth-graders at Black Mountain School in Golden Valley fared much better, though their scores also fell eight points to 51 percent. Dorner noted that, due to the low math scores, none of the district's middle schools have met the state's Annual Yearly Progress threshold.
"Black Mountain did a very similar thing to Palo Christi (Elementary School); they had a very intensive tutoring program where they were benchmarking their students constantly and then they were adjusting their instruction and tutoring based on the results," Dorner said. "They paid attention to the new math standards and they adjusted their instruction as they were going through the year."
That said, however, Black Mountain's seventh- and eighth-graders saw much larger declines in math, falling from 57 and 48 in 2009 to 38 and 32 in 2010. White Cliffs Middle School also saw large drops in seventh and eighth grade, while Kingman Middle School's losses were confined to seventh grade, with eighth grade dropping just two points year-over-year.
Mt. Tipton School in Dolan Springs also saw large drops in its middle school math scores, though the relatively small enrollment there means individual students have a much greater impact on the overall percentages.
Reading scores were not affected by new standards this year, and the scores show it - most KUSD middle schoolers saw little change in their reading scores, with only small changes up or down over last year. For the most part, the trend was positive, with most cohorts seeing their scores rise by one to five points, though several also dropped by similar amounts, such as White Cliffs' seventh-graders, whose scores fell from 69 to 67 percent passing.
"We didn't have to adjust our instructional delivery in reading that much because the standards stayed the same," Dorner said. "We've got a handle on what the standards are and what works."
As with its elementary school, scores at Kingman Academy of Learning's middle school remained above the state average, though its math scores also dropped by 6 to 10 points depending on the grade level. Reading scores rose throughout each grade, however, with KAOL Middle seventh-graders posting an impressive jump of 10 points to 90 percent meeting the state standard.
At the same time, AIMS writing scores fell across the board at KAOL, with sixth grade plummeting from 82 to 59 percent, falling below the state average of 72. District Administrator Susan Chan admitted that she was puzzled by the drop, though she believed it could be in part because of the subjective nature of the test and the fact that children will react to different writing prompts in different ways.
"There's descriptive prompts, there's persuasive, and some prompts are easier to write to than others," she said. "It's one of the reasons we're going to focus more on vocabulary development next year. If you have rich vocabulary, you can make a better statement in your writing."
But KAOL wasn't the only school affected by the writing test. Sixth-grade writing fell across the state, as well as at KUSD, with Kingman Middle and White Cliffs each posting a drop of 13 points or more.
"The students' ability to write doesn't change from one year to another, but the scoring is subjective," Dorner said. "The range or the deviation between scores seems to be greater in writing."
She added that, in some cases, the writing prompts simply may not have been familiar enough for many students to write about knowledgeably. Given the area's rural character, Dorner said there are many issues that local children simply haven't been exposed to that others in more cosmopolitan communities have.
"It's got to have some sort of personal relevance, and sometimes the prompts will not motivate a strong response because, 'Well, what do I know about that?'" she said.
This is the second in a three-part series on local AIMS scores. Look for high school scores and analysis in the Miner later this week.
More like this story