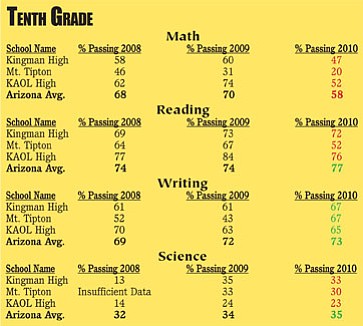 Originally Published: July 30, 2010 6:01 a.m.
KINGMAN - As with the elementary and middle schools, local high schools also suffered in the most recent Arizona Instrument to Measure Standards (AIMS) tests. And like the elementary and middle schools, math scores were the biggest casualties.
The percent of tenth-grade students who meet or exceed the state standard for math proficiency dropped at both of Kingman's public high schools, as well as at Mt. Tipton school in Dolan Springs. All three schools now fall below the statewide average, which also fell from 70 percent in 2009 to 58 percent in 2010.
Kingman High School's drop closely mirrored the statewide drop, with passing scores falling from 60 percent to 47. Mt. Tipton's scores likewise fell 9 points from 31 to 20 - an overall drop of 26 points from the school's 2008 level.
As with the elementary and middle school scores, Kingman Unified School District Assessment Director Gretchen Dorner said the drops could be attributed to a new set of state math standards that placed greater emphasis on higher-level concepts that many high school sophomores simply weren't prepared for.
"Numerical operations were reduced and the geometry section increased," Dorner said. "And if you think about it, most students take algebra as a freshman and geometry as a sophomore. So if 20 percent of he AIMS test is on geometry and you're only halfway through your geometry year, that's going to be a problem."
Dorner said KHS is now working to determine ways of introducing geometry and algebra at earlier stages in the typical student's education. She added that teachers and administrators are already dissecting the most recent test results to learn which aspects of geometry and algebra they need to focus on more intensely in the classroom.
Perhaps the biggest shock came at the Kingman Academy of Learning, whose tenth-graders posted a drop of 22 points in math, falling from 74 percent passing to just 52 percent - 6 points below the state average. District Administrator Susan Chan said the changing standards were partially to blame for the drop, though she also noted that KAOL has a larger-than-average contingent of special-needs students, which may also have contributed to the drop.
"All of those students, with the exception of a few, are required to take grade-level AIMS tests even when they're not working at grade level," Chan said. "We also have a lot of students who enter our high school that are not exposed to geometry before they take the AIMS test as sophomores."
Chan said the district plans to work on ensuring that students are placed in the right classes to start with, which she said would give them the knowledge basis they would need to eventually do the higher-level work on the AIMS test.
"We want to give them that background knowledge," she said.
She added that the district will be looking at the concepts students did not do well on, with the hope of possibly introducing them at an earlier time so students can understand them before the test comes in April.
Local high schools also gave back some of the gains they made in reading in 2009, even as the statewide average rose 3 percent to 77. KHS tenth-graders saw their scores fall 1 point to 72 percent, while KAOL saw scores drop 8 points to 76. Mt. Tipton saw an even greater drop of 15 points to 52 percent, though the school's relatively small size leaves it prone to such sharp changes, since each individual student has a much greater affect on the overall percentage score.
Each high school fared better on the writing portion of the test this year, with KHS posting a six-point gain, to 67 percent, and KAOL posting a two-point gain, to 65. Mt. Tipton also saw another characteristically sharp gain of 24 points, to 67 percent. Statewide, tenth-grade writing scores improved by 1 point, to 73 percent.
After seeing big gains last year, AIMS science scores dropped slightly, with KHS falling 2 points to 33 percent, KAOL 1 point to 23 percent and Mt. Tipton 3 points to 30 percent. Statewide, the average rose 1 point to 35 percent passing. It should be noted that passing the science test is not yet a requirement for high school students to receive a diploma - something that cannot be said for the reading, writing and math portions of the test.
More like this story