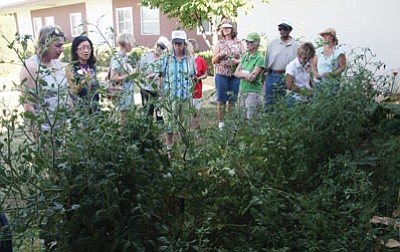 Originally Published: July 30, 2010 6 a.m.
KINGMAN - When students at four area schools return to class next month, one of the first things they're sure to check is the progress of their gardens.
For more than a year, students at KUSD's La Senita and Manzanita elementary schools, along with KAOL's Primary and Intermediate schools, have been taking their lessons beyond the classroom and into their outdoor learning labs. The garden projects were first introduced into the schools by Nina Brackett, an instructional specialist out of the Mohave County Extension Office.
Brackett said the gardens not only help students learn about subjects such as science and math, but also help children explore the ideas behind bigger issues, such as water conservation and agricultural food science.
"It also teaches them patience and gives them a sense of accomplishment," she said.
The emphasis in the garden is on the process rather than the product, Brackett explained, although she hopes to one day expand the project by using the produce in the school's cafeteria meals.
"We're not there yet," she said. "We don't have a 10-acre farm. But if doing this gets a kid to try a sugar snap pea they would have never tasted before, then we did our job."
The school gardening projects began in earnest in Mohave County in 2007, with projects also taking place at schools in Lake Havasu City and Bullhead City.
Brackett approaches the school principals, and after approval, finds a way to build a garden on the grounds working with space that is available.
In addition to the helping hands from students and teachers, more than 40 volunteer master gardeners and members of the Cerbat Garden Club help in constructing and tending the gardens. Many of those master gardeners are former teachers, such as volunteer Marge Martinovic, who underwent the 16 weeks of master gardener training for the chance to get back into a classroom setting.
"It's really fun to be able to see the kids involved in this," she said.
Manzanita Principal Jeri Wolsey said the gardens have been a big hit with the students.
"They love it," she said. "It brings real life into the classroom."