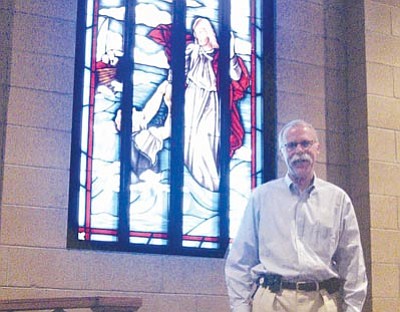 Originally Published: June 3, 2010 6:01 a.m.
KINGMAN - After nearly eight years of service, the Rev. Michael Bryant will be leaving Kingman and St. Johns United Methodist Church.
The Bishop of Phoenix has called him to serve at the First Methodist Church in Gilbert. Bryant will hold his last service at St. Johns on June 20. A celebration of his service to the church and the community will be held after the 11:30 a.m. service.
"I will miss him terribly. He's very near and dear to the hearts of the volunteers," said Kingman Regional Medical Center's Manager of Volunteer Services Leana Asplin. Bryant has served as one of 15 volunteer chaplains for the hospital since he arrived in Kingman eight years ago. Each pastor who volunteers for the program is placed on call, 24 hours a day, for one week to help serve the spiritual needs of patients and their families.
"He will be greatly missed by the community for his camaraderie and spiritual devotion," said the Rev. Grif Vautier of Kingman Presbyterian Church. Vautier and Bryant worked together at KRMC.
"He's a very congenial person to work with," Vautier said.
"Kingman is just a wonderful place. We may move, but you can't take the Kingman out of us" Bryant said of he and his wife.
"In eight years, you create a lot of meaningful relationships with people and families," Bryant said. "This afternoon I'm going to visit someone at the hospital who just had a baby. I've buried others. My wife and I celebrated the graduation of several others this year. It's something that families don't forget.
"I know there is always someone I can count on for help in Kingman, and even if I move, that won't change," he said. "This is a community that takes care of each other."
He pointed to KRMC, which donated a number of necessary vaccines to a group of St. Johns parishioners who were traveling to New Orleans after the Katrina disaster.
Columns will continue
Despite his move, Bryant plans to continue to write his columns. He started writing 11 years ago and has already touched base with three newspapers in the Gilbert area.
"I write to the person, not the parishioners," he said.
"I'm looking to reach out to that person who may have drifted away from the church but still has that glimmer of faith."
He hasn't had many complaints about his columns. One man, many years ago, was so upset about one of his columns that he made an appointment to speak with Bryant, and the two had a conversation about the church and God.
Another man, who passionately believed in his faith, stood up during one of Bryant's Sunday services and called him a liar. Bryant found out that the man disagreed with how Bryant had simplified a very complex belief of the church in his last column.
"I try to bring it down to the common man," Bryant said. "What is that God would say to this person in this situation?"
"I don't believe that God changes the world, so much as God changes us to deal with the world," he said.
Moving to a new community is always hard, he said. His church in Gilbert will have a congregation of 900 members, nearly twice the size of St. Johns.
Each community and congregation is different, he said. A good preacher learns about his audience and addresses their needs.
"I know my members here. I've been with them through their journeys and struggles. It will take me a while to learn the same in Gilbert," he said. But he's confident he and his wife will do all right at the new church.
"I don't want them (the community and members of St. Johns) to think of this as 'good-bye,'" he said.
"I want them to think of it as 'so long.'"