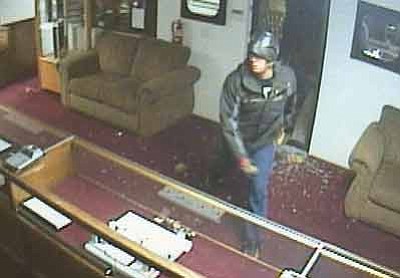 Originally Published: June 3, 2010 6:01 a.m.
KINGMAN - Police are looking into a connection between the burglaries of a jewelry store and skate shop overnight Monday.
Kingman Police responded to a jewelry store burglary alarm in the 4200 block of Stockton Hill Road around 11:50 p.m. The front door had been broken out by a large rock.
It didn't appear that any items were taken. Two male suspects were seen fleeing from the scene.
One was described as 6-foot tall and weighing about 240 pounds He was wearing blue jeans and a grey jacket with lighter grey trim.
The second suspect is described as about 5-foot-9 tall and weighing about 150 pounds. He was wearing a black long-sleeve shirt and baggy grey jeans.
The next morning, police responded to a skate shop in the 200 block of Stockton Hill Road where a large rock was used to break the glass door. A large amount of apparel and skateboard supplies were taken.
Anyone with information is asked to contact KPD at (928) 753-2191 or report anonymously by calling Mohave Silent Witness at (928) 753-1234.
A reward is offered for information leading to the arrest and apprehension of those responsible.
More like this story