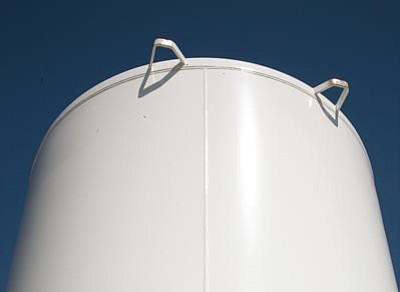 Originally Published: June 7, 2010 6:01 a.m.
KINGMAN - The City Council will hear comments from the public on two issues at its meeting tonight, including new regulations on LED display signs and installation of a 12,000-gallon fuel storage tank slated for an area near two schools.
The Planning and Zoning Commission narrowly approved the fuel storage tank for a conditional use permit by a vote of 4-3 at its May 10 meeting. UniSource Energy Services wants to construct the fuel tank at its dispatch center on the corner of Airway Avenue and Harrison Street in order to provide both a regular and an emergency fuel source for its vehicle fleet in the event of a widespread power outage.
The tank would be located within a few hundred feet of two Kingman Academy of Learning schools.
The tank would use compressed air, not electricity, as its delivery mechanism and would store about 10,000 gallons of diesel fuel, with another 2,000 gallons of capacity reserved for gasoline.
Only two residents spoke against the tank's location before the commission, and neither had children enrolled in the school. No city departments have issued any objections to the tank, and the fire department has said that so long as the tank is installed as Unisource has illustrated, it should meet the city fire code.
The second public hearing will focus on new regulations for LED display signs, such as the ones outside Diamond Brother's Jewelers at 4255 Stockton Hill Road and Ridgeview Dental at 2535 Hualapai Mountain Road.
The issue arose after some complained the Ridgeview Dental sign was too bright and caused a hazard to passing motorists at night.
Dr. Teri Sandoval has since turned down the brightness of her sign, but Planning and Zoning commissioners said they wanted to stave off future problems.
The new regulations would limit the nighttime brightness of LED signs to no greater than .6 foot-candles over the ambient lighting conditions, as measured from 100 feet away. A foot-candle is a measurement of how much light is hitting something at a certain distance, with one foot-candle roughly equivalent to the light from a single candle one foot away.
For comparison, the Ridgeview Dental sign was recently measured at .52 foot-candles at 100 feet, while a traditional internally lit sign at Manglesdorf Dentistry measured just .19 foot-candles at the same distance. Both would fall within the limits approved by P&Z.
The council will also take up several other issues today, including approval of a $535,000 bid to renovate the Kingman Train Depot.
The meeting begins at 6 p.m. in the Council Chambers of City Hall, 310 N. 4th Street.
More like this story