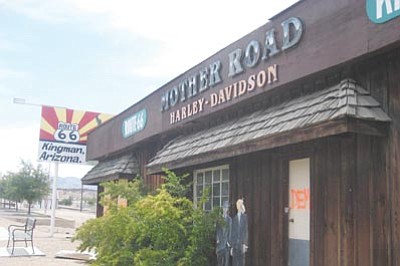 Originally Published: June 7, 2010 6:01 a.m.
KINGMAN - A building used as a photo op for motorcyclists driving down Route 66 is slated for demolition.
Crews for BNSF Railroad, which currently owns the building, spray painted orange demo signs around the building almost two weeks ago. Lena Kent, spokeswoman for BNSF, said the building is being torn down due to safety concerns. She said the building is in disrepair and that a portion of the roof has blown off several times.
There's no exact date for when the building, located at Andy Devine Avenue and North Third Street, will come down. Kent said the project is currently out for bid.
BNSF Railroad purchased the building in 1997. It was abandoned at the time, but no one's quite sure for how long.
Records from the Mohave Museum of History and Arts indicate that the building was previously owned by Flying K Realty as far back as 1963. Prior to that, museum librarian Kay Ellermann remembers the building being used as an assay office for local mining operations.
For the last several years, the building has served as a photo backdrop for motorcyclists passing through town. The Harley Davidson theme was added at the same time that local business owner Scott Dunton had the neighboring Kingman Cab Company building repainted in 2002.
That building was destroyed last September in a hit-and-accident.
Mother Road Harley-Davidson General Manager Tony Campbell said the biker theme was painted by an artist from Phoenix. He said several of the building's decorations have gone missing over the years. He doubts anything could be salvaged from the building at this point.
"It's a bummer, but it's a privately owned building and the decision to tear it down is up to them," Campbell said.