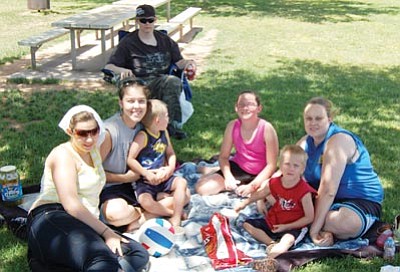 Originally Published: June 8, 2010 6:01 a.m.
KINGMAN - The sudden trip into 100-degree temperatures these past few days is expected to ease, with predictions of a cooling-off trend that should bring the temperatures down into the 80s from Friday through Saturday.
A high-pressure system over New Mexico that brought air down from the upper levels of the atmosphere was responsible for the heat over the weekend. The cooling-down trend should happen as a low-pressure system from the Pacific Northwest shoves the high-pressure system eastward.
"This is not an unusual system," State Climatologist at Arizona State University Dr. Nancy Selover said. "This sort of thing happens in the spring. I kind of think it's encouraging that a low is coming down at this point of time in June.
"Maybe I'm just wishful thinking, but hopefully, it's a sign that the 110-degree situations won't be continuing," Selover said.
The meteoric race to the 100s followed a cooler-than-normal April and May. Kingman didn't reach the 90-degree mark until May 31.
"This winter had a El Nino circulation," Selover said. "The storm tracks of the winter were further south and were associated with colder air."
Though these storm tracks brought colder temperatures during April and May, they didn't bring the precipitation that normally comes with them.
"They kept us much cooler," the climatologist said. "The end-of-the-week cool-down may be the last taste of it."
Now that El Nino seems to have disappeared, there's not a good indicator about how much precipitation is in store for the near future. However, Selover said the National Weather Service's Climate Prediction Center expects temperatures to be warmer than normal over the next four months through September.
"I hope that's wrong," she said. "But they have a pretty good track record with temperatures."
Selover said she's hopeful that when the monsoon core moves up from Mexico into Arizona in early or mid-July, the high temperatures will be held at bay.
Kingman is expected to return to the 100s in the middle of next week for another six days before returning to the 90s to close out the month.