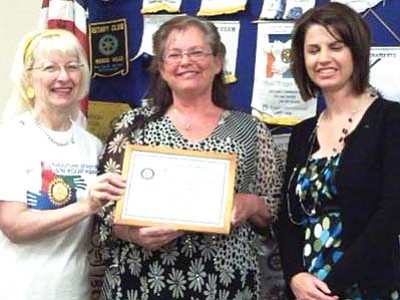 Originally Published: June 10, 2010 6 a.m.
Executive Director of Kingman Boys and Girls Club Noreen Frisch (shown above, center, with Citizen of the Month Chairman Jo Ann Oxsen, left, and Rotary President-Elect Stephanie Menter) was named Kingman Route 66 Rotary Club's May Citizen of the Month. In addition to involvement with local, regional and national Boys and Girls Clubs, Frisch also serves as the Methamphetamine Prevention and Education chairperson on the Kingman Area Meth Coalition.
-----
Speaking at Kingman Route 66 Rotary Club's June 4 meeting were two members of Mohave Top Guns, a local trap-shooting club for youth 9 to 18 years of age. Shown above are Ryler Hunter, left, and Josh Schanaman. Schanaman was the second member in the club's history to shoot a perfect 50 score, followed by a perfect 25 score this year. Currently at 52 members, Mohave Top Guns shoot Wednesday evenings and Saturday mornings at Seven Mile Range.