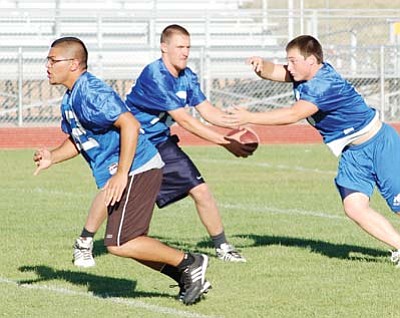 Originally Published: June 13, 2010 6:01 a.m.
KINGMAN - Despite the lack of returning players on the football field at Wednesday's passing league tournament against Parker, Bullhead City Mohave and Mohave Valley River Valley at Kingman High's new stadium, Bulldogs coach Rob York took some positives from the 7-on-7 exercise.
"The freshmen looked real good," York said. "There had to be about 15 of them out there. The kids are getting better every day."
Incoming senior quarterback Dylan Smith was the only regular from last season's team out there Wednesday for KHS, and York liked the progress he saw in him.
"Dylan is picking up the coverages and the kids know the formations," the coach said. "The kids that are showing up are getting better."
Both York and Smith noted that incoming junior Gabe Lumas has been having an excellent summer so far for the Bulldogs.
"Gabe has really improved," York said. "He's getting some confidence built up. He'll be our G. Herrera this year."
Herrera, who graduated in May, set school records with 53 passes caught and 742 receiving yards in a single season. He recently tried out for the Glendale Community College football team, but no word has been received whether he made it or not.
Smith was perplexed when he talked about the missing upperclassmen for KHS. He said he didn't expect it to bode well for the 2010 season.
"No one is showing up," he said. "I really don't think we'll have half the team we had last year."
Individually, Smith has been doing all he can to make sure he's prepared for the upcoming season, which starts with KHS hosting Lake Havasu at its new stadium Sept. 3. He said he'll be at a camp this week at NAU and is thinking of attending one at UNLV.
"I have to work extra hard," he said. "I have to play defense this year, too. I do love defense. I love the hitting."
Over the summer, York has been impressed with the work and ability to catch on from incoming juniors Matt Farney, Alex Lopez and Tyler Nall. What's plagued York so far is the inconsistency of some players this summer. The start of Wednesday's tournament was more about teaching than it was about playing.
"We had new kids there and had to teach them," the coach said. "Toward the end, we played a lot better. I like to think that by the end, the kids realized the difference between when we started and how we ended. They need to be more consistent."
KHS opens its Kingman Bulldog Mini Camp from 5:30 to 7:30 p.m. Monday. The camp will run all week with the exception of Wednesday, when the Bulldogs go to Mohave for a passing tournament.