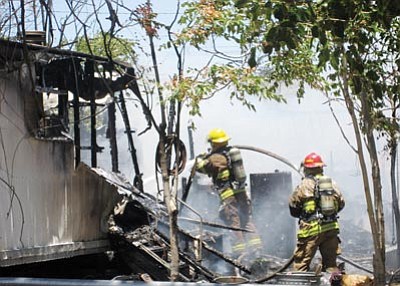 Originally Published: June 13, 2010 6:01 a.m.
KINGMAN - Kingman firefighters had to battle wind and a cluttered yard as well as flames Friday when a fire broke out around noon in an older mobile home in the 500 block of Berk Avenue.
No one was in the home at the time of the fire and two dogs inside were able to escape, according to Kingman Fire Department Spokesman Bill Johnston.
"It went up pretty quickly. We had flames going way, way up," said Rodney Collett, who lives behind the home. "I was coming home from the store and thought it was my place."
Collett said he watched the flames spread from the front to the back of the home toward his house as he called 911.
"I was using the hose here for a while," he said pointing to his garden hose. "I was really impressed with the fire department. They responded very quickly."
Kingman Fire Department received the first call of a fire at the home at 11:47 a.m., Johnston said. Three engines and personnel from both KFD and Northern Consolidated Fire District responded. A section of Berk Avenue in front of the house was blocked off to traffic while firefighters worked to put out the flames.
The fire spread to a vehicle parked near the home and slightly damaged an RV, Johnston said.
Despite high winds, firefighters were able to keep the fire from spreading to neighboring homes, some of which were within feet of the burning structure.
A dollar estimate on the damage was not immediately available. KFD is investigating the cause of the fire.