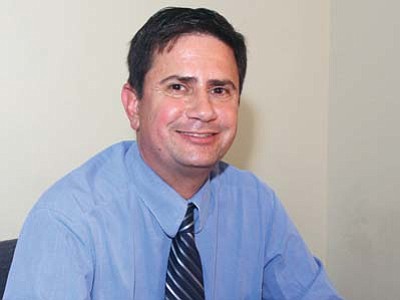 Originally Published: June 14, 2010 6:01 a.m.
KINGMAN - Protecting and educating the residents of Arizona about fraud and ID theft is the main reason why Democrat David Lujan is running for attorney general this year.
Lujan is a former assistant attorney general and worked under both Janet Napolitano and current Attorney General Terry Goddard.
"Both Napolitano and Goddard have done an outstanding job protecting the state and its citizens. I plan to continue that service," Lujan said.
His main concern is educating Arizonans, especially seniors, of some of the tricks unscrupulous people are using to get their hard-earned money. Some of the latest include mortgage fraud and organizations posing as charities.
"The economy is hard enough without people having to worry about predators trying to steal their money," he said. "Arizonans should never have to worry about losing their homes, savings or peace of mind to a thief, especially in these trying economic times."
Lujan especially wants to reach out to residents who live in rural areas such as Mohave County.
"I want to take this outside of Maricopa County, to the big rural areas and work with the local law enforcement to prevent and track down some of these crimes," he said.
Lujan is familiar with working with rural law enforcement. As a member of Defenders of Children, he has worked extensively with Mohave County law enforcement and other departments on helping the residents of Colorado City and Hildale, Utah, combat both adult and child abuse. He has also helped train more than a 1,000 attorneys and law enforcement officers in the signs of abuse and co-authored a guide to child protection services.
"It's not surprising that the charges (against Fundamentalist Church of Latter Day Saints leader Warren Jeffs) were dismissed. When they lost the witnesses, they lost the case," he said. It's hard to get witnesses to testify about the abuse they may have seen or experienced, Lujan said.
His plan to protect children includes educating parents and schools about the abuse of prescription drugs, cyber bullying and as well as fighting for children who are forced into polygamous marriages and other issues that face today's children.
He plans to increase funding and training for both Child and Adult Protective Services and create an Elder Abuse Task Force in the Attorney General's Office. He also wants to expand the current senior volunteer task force where seniors can learn the signs and report acts of abuse or fraud.
Lujan said he would also tackle border security by following in Goddard's footsteps and attacking the drug cartel's funding.
When asked about the lawsuit against the federal healthcare reform bill, Lujan sided with Goddard. Arizona joining the lawsuit was unnecessary, he said. If the courts ruled in favor of the states in lawsuit, all of the states would benefit.
Gov. Jan Brewer and the Legislature's actions to get around the Attorney General's Office and join the suit were pure politics, he said.
When asked how he would work with a Republican Legislature and possibly a Republican governor if elected, Lujan said he was comfortable working with both. He had served in the Arizona House of Representatives since 2004 and has also served as the House's minority leader.
Other Democratic candidates running for Arizona Attorney General are Vince Rabago and Felecia Rotellini. The Republican candidates running for the office are Tom Horne and Andrew Thomas.