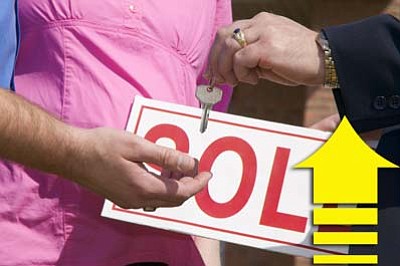 Originally Published: June 14, 2010 6:01 a.m.
KINGMAN - A pair of homebuyer tax credits has continued to buoy the Kingman area housing market, despite the credits themselves having already expired.
According to numbers compiled by the Kingman/Golden Valley Association of Realtors, May continued a three-month streak of strong sales numbers for single-family homes in and around the Kingman area, easily outpacing last year's sales numbers for the same period.
Realtors sold 94 single-family homes in May, down slightly from April's total of 105 but still outpacing nearly every month since the start of the housing crunch in mid-2007. April's total remains the highest monthly total for single-family home sales since March of 2006.
With 407 homes sold since January, 2010 appears on-course to exceed 2009's total of 881, which in turn exceeded each of the previous years' total sales. For the past two months, average sale prices have also begun to slowly crawl back up from their March low point, when the average home sold for under $98,000. That number improved to $104,424 in April and $107,824 in May - still less than half the average price at the housing market's peak, but a welcome reversal nonetheless.
For the sixth month straight, existing home inventories have also continued to drop, falling to their lowest levels since 2006. The month of May ended with just 492 homes on the market, down 56 percent from the August 2006, when the market peaked with 1,132 homes for sale.
According to KGVAR President Kathleen Murray, much of the housing market's recent success can be attributed to a pair of federal tax credits for first-time and existing homebuyers. While both tax credits technically expired at the end of April, Murray said their effect will continue to be felt for at least the next two months, since houses purchased under the program don't actually have to close on the deal until June 30.
For that reason, Murray said it's still too early to tell whether or not the boost in sales will continue through the end of the year or will fall back to earlier levels.
"We're not going to know until after June," she said. "What happened in May and June as far as sales won't actually close until July. But is everyone busy? Yeah."
But Murray said she was optimistic that Kingman's housing market would be able to stand on its own two feet once the incentive programs have finally petered out. That's because she said the tax credits have not been the only things driving the jump in sales.
"Price is low, lower than it's been in years, and the interest rates are still under 5 percent," she said. "So that's still helping to drive the market."
She added that, despite the area's continued high unemployment, those purchasing homes have not fallen into any one clear demographic group. While some homes are still being purchased by retirees looking for a place to spend their golden years, many others are being sought by younger families who have been looking to move up, but couldn't afford to do so until now.
Murray added that some investors are still trickling in as well, looking for homes they can fix up and rent out.
"People who could not afford the pricing two years ago, people buying to invest in real estate for rentals, retirees - it's been all age groups," she said. "There are still people moving to our area from out of state that find the value here to be amazing, so we're seeing the whole gamut."