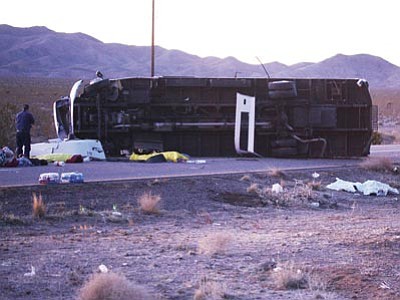 Originally Published: June 17, 2010 6:01 a.m.
KINGMAN - More than a year after a tour bus rolled over on U.S. 93 near Dolan Springs, the National Transportation Safety Board will hold a public meeting to determine the cause of the accident on June 22 in Washington D.C.
The Jan. 30, 2009, roll over killed seven and injured nine Chinese tourists on their way back to Las Vegas from Grand Canyon West. The bus, operated by DW Tour and Charter out of San Gabriel, Calif., was carrying 16 passengers and a driver.
Investigators believe the driver of the bus, Han Dong, 48, of Rosemead, Calif., may have been distracted by something when he lost control of the bus.
According to the Arizona Department of Public Safety, the bus traveled off the edge of the roadway and Dong overcorrected, causing the bus to cross the northbound lanes and then off the roadway and onto the dirt shoulder. He overcorrected again and the bus traveled back across the northbound lanes, into the center median and into the southbound lanes, where it rolled over once and came to a rest.
Investigators did not believe Dong was impaired at the time of the accident. They also do not suspect any criminal involvement in the case.
The Associated Press reported at the time that the California Public Utilities Commission fined D.W. Tours in October 2008 for hiring an unlicensed bus outfit as a subcarrier. The company owns two buses and employs four drivers.
The NTSB hearing will be held at 9:30 a.m. in Washington, D.C. A live and archived webcast of the proceedings will be available online at http://www.ntsb.gov/Events/Boardmeeting.htm.