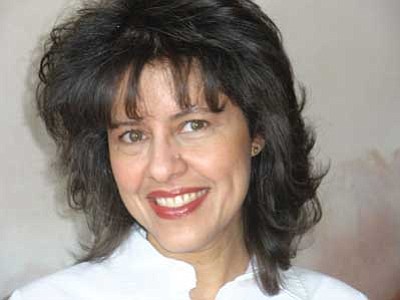 Originally Published: June 18, 2010 6 a.m.
KINGMAN - A local woman and her story of survival, faith and music will be at Hastings from 11 a.m. to 2 p.m. Saturday. Vilma Weigand will be signing her book "Creating and Singing Faith: An Immigrant's Compelling and Inspiring True Story."
The book details Weigand's life starting with her survival of a 7.0 earthquake in her home country of Nicaragua at the age of 14, leaving home at the age of 20 because of war and traveling the globe living, singing and playing guitar in castles, sleeping in church basements and visiting remote villages in 20 different countries.
It also describes how discrimination because of her religious beliefs and experiences with angels would change her and support her through her journey, which eventually landed her in Kingman.
"I was compelled to write this book many years ago, to share my story and tell people how hope and faith can take us through life's ups and downs," Weigand said.
Weigand will also be signing books at the Bullhead Hastings Bookstore from 11 a.m. to 2 p.m. July 10.