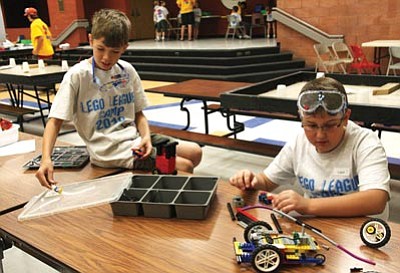 Originally Published: June 20, 2010 6:01 a.m.
KINGMAN - The first of two youth Lego Camps wrapped up Friday, with around a dozen spots still available for the second camp, which begins July 28.
Last week's camp for students in grades 1-4 closed with the annual competition, where computer-programmed vehicles navigate an obstacle course for bragging rights. The Super Galaxy team took home first place, followed by the Robot Rebels in second.
Twenty-nine students participated in the camp, which ran four hours each day Monday through Friday. Cliff Angle, dean of students at Kingman High School, has led the camp for three years. He said it serves as both an educational and recreational experience.
"It's good, creative problem-solving fun," he said.
The students spend the week crafting their own Lego vehicle, which is equipped with a microcomputer designed by the Massachusetts Institute of Technology. The kids program the computer to hit certain obstacles to earn points. Friday's competition was judged by KHS assistant principal Dwayne Lyons and City Councilwoman Erin Cochran.
Brenton Elledge, 23, participated in the camp when he was in high school. He has worked as a mentor for the last two years and helps kids with their design and programming problems. The Bulldog Robots, for example, couldn't figure out why their Lego vehicle was spinning in circles. Turns out, they had installed the engine backward.
Another team built a robot vehicle that kept exploding every time it hit an obstacle. Each explosion brought on a new onslaught of Legos, and the vehicle grew larger and larger with each rebuild.
Elledge said the camp benefits kids by teaching them how to program a computer and how to work in a group dynamic.
He said the biggest engineering problems stem from the kids doing their own designs rather than following Lego's guidelines, but Angle said that's part of the fun.
"It's always a surprise," he said. "You never know what they're going to build. This year we got a moon rover, a helicopter and an airplane."
A second camp will begin July 28 for students in grades 5-8. For more information, e-mail Angle at cangle@kusd.org.