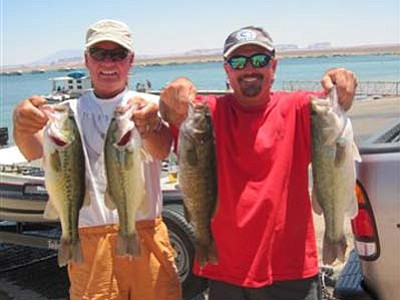 Originally Published: June 23, 2010 6:01 a.m.
KINGMAN - The old saying that all good things must come to an end came true for local bass angler Art Fuller on Sunday, when his winning streak of Kingman Bass Club tournaments came to an end at the KBC's two-day Lake Powell tournament.
The team of Greg Parker and Danny Lloyd won the two-day tournament at Lake Powell, posting a two-day total of 10 bass that collectively weighed 21.03 pounds. Parker/Lloyd had a five-bass limit on the first day that weighed 9.78. On Sunday, the team put together the heaviest limit of the day. That limit checked in at 11.27.
Fuller and his partner, Dave Hilton, actually led the tournament after the first day with a five-bass limit that weighed 12.08, and it looked like they would run away with the tournament.
But it was the inability to put together another big stringer of bass that led to the downfall of the arguably best angler in the KBC and his partner. Their second-day bag included just three bass that weighed 3.94 pounds, giving them a two-day total of 16.02. That weight still earned them second-place money.
Lloyd said they didn't catch a lot of fish on Saturday, but on Sunday, they were culling fish by 6:50 a.m. "We were really on them, and they were biting like crazy!"
The KBC does not fish in July or August due to the stress on the fish and anglers, but they'll be back on the water in September.